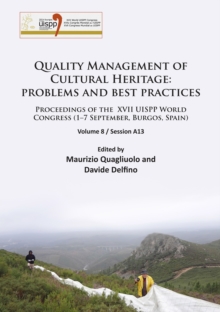 Quality Management of Cultural Heritage: problems and best practices : Proceedings of the XVII UISPP World Congress (1-7 September, Burgos, Spain). Volume 8 / Session A13
Paperback / softback
Description
From Lascaux to Shanidar caves, from Malta temples to Stonenge (and the 'new' one...), from Serra da Capivara to Foz Coa park, from Australia to North Africa's Rock Art, from Pechino to Isernia excavations, from the Musee de l'Homme in Paris to the Museum of Civilization in Quebec, from Catal Huyuk to the Varna village, from the Rift Valley to the Grand Canyon, most problems have to be fronted in a common perspective.
But which perspective? Is it possible to have a common point of view on different values, different sites, different methodologies?
The Scientific Commission for the Quality Management of Prehistoric and Protohistoric Sites, Monuments and Museums (c) set up at UISPP by initiative of the author (UISPP-PPCHM) is aimed to examine these issues and propose solutions acceptable to all those who want to contribute to common understanding of our past history.
The only certainty in fact is our Past. It is undoubted that it happened, it is undoubted that its consequences are in place today, it is undoubted that it is affecting persons, social groups or larger structures in some ways also when it is disregarded.
The help of specialists from different Countries and the exchange of opinions with other colleagues from other fields and/or organizations is then needed in order to: discuss the reasons and possibilities for preservation and use of Sites, Monuments and Museums; let the management of Rock Art Sites and Parks, Prehistoric excavations, Museums and Interpretations Centres and related structures open to the public to be made according to criteria agreed at an International level, both in normal and critical conditions; enhance standards in preserving, communicating and using Sites, Monuments and Museums; involve the public and diffuse awareness; analyse tourism benefits and risks at these destinations; introduce new opportunities for jobs and training; develop networks on these topics in connection with other specialized Organizations.
This session aimed to ask: what is your experience? Which problems would you like to address? What solutions can be considered?
Information
Format: Paperback / softback
Pages: 80 pages, Illustrated throughout in black & white
Publisher: Archaeopress
Publication Date: 31/03/2016
Category: Museums & museology
ISBN: 9781784912956
Free Home Delivery
on all orders
Pick up orders
from local bookshops