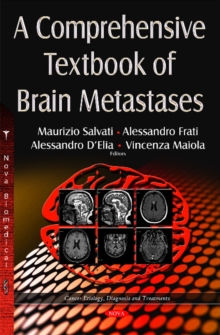 Comprehensive Textbook of Brain Metastases
Hardback
Description
Brain metastases are frequently encountered in the neuro-oncological field.
It has been estimated that 170,000 people a year in the USA experience this condition.
Moreover, brain metastases are four times more frequently encountered than primitive cerebral tumours, and will increase in the future due to systemic cancer patients management.
This book presents current biological viewpoints, together with diagnostic and therapeutic advances and options available for brain metastatic patients.
Clinical daily-practice problems are systematically treated and scientific background is provided based on the personal experiences of prominent practitioners in the field, coming from different academic institutions.
The impact of histopathology and the impact of technology on doctors' practices, as well as systemic disease management, basicranial sited brain metastases and deep and eloquent brain localisations, are treated in a constant multidisciplinary fashion.
This book is an essential instrument for neurosurgeons, radiation and medical oncologists, and neuro-oncologists, and we hope it will also help medical students and physicians in training.
Information
Format: Hardback
Pages: 261 pages
Publisher: Nova Science Publishers Inc
Publication Date: 01/06/2015
Category: Oncology
ISBN: 9781634822947