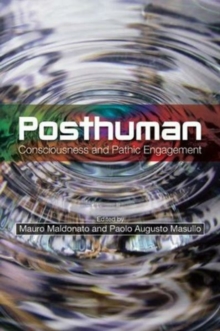 Posthuman : Consciousness & Pathic Engagement
Paperback / softback
Description
Emerging at the margins of science fiction the concept of posthuman has become the most potent and pervasive movement of contemporary culture.
From science to ethics, from philosophy to art, from politics to communication, posthuman studies transcend analytical-conceptual categories of traditional disciplines.
This new anthropology, open to a hetero-referential alterity (bio-techno-IT), requires, on the pathic level, new forms of adaptation and integration.
The emancipation of the idea of a presumed human essence brings possibilities as well as risks.
This book sets out to show how, beyond epistemological asymmetries and different forms of language, reflection on the posthuman in terms of the complex questions of our time imposes a biotechnopoiesis on multiple levels: from redefining our relationship with the planetary environment to questioning the dimensions of our historical condition.
The study thereof revolves around sensorial, perceptual and emotional activity in terms of cognition and neurophysiology.
Consciousness is to be regarded not as a workspace demarcated by the brain, but as a unitas multiplex that emerges from co-operation between brain and body.
The posthuman defines a new model of existence and leaves an emerging anthropological identity open to dialogue with eteroreferential (otherness) in bio-techno-informatics.
This requires the development of a commensurate adequacy of emotions and affections (the pathic).
Man and woman are thus called to care for the posthuman: their passion for the new status of nomadic subjectivity will bring with it the ability to engage biotechnopoiesis in multiple ways to the greater good of mankind.
Information
Format: Paperback / softback
Pages: 192 pages
Publisher: Sussex Academic Press
Publication Date: 05/07/2017
ISBN: 9781845197131
Free Home Delivery
on all orders
Pick up orders
from local bookshops