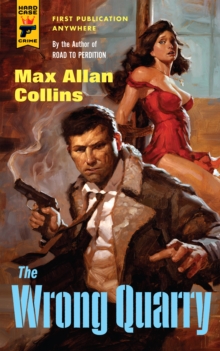 The Wrong Quarry
Paperback
Description
Quarry doesn't kill just anybody these days. He restricts himself to targeting other hitmen, availing his clients of two services: eliminating the assassins, and finding out who hired them...and then removing that problem as well.
So far he's rid of the world of nobody who would be missed.
But this time he finds himself zeroing in on the grieving family of a missing cheerleader.
Is this the right quarry?
Information
Format: Paperback
Pages: 224 pages
Publisher: Titan Books Ltd
Publication Date: 07/01/2014
Category: Crime & mystery
ISBN: 9781781162668
Free Home Delivery
on all orders
Pick up orders
from local bookshops
Reviews
Showing 1 - 2 of 2 reviews.
Review by ecw0647
16/06/2015
I have read all the Keller, Quarry and Parker books except for this, the most recent. It's good. What is it about "hit man" books that attracts us (or me anyway?) I suspect it's the lifestyle, the hunt, the tracking, etc. The Walter Mitty quality of it all. I think it would be great fun -- except for the killing part. There I draw the line. Guess I'd be a lousy hit man. Come to think of it, I've never had women fawning all over me either. That's OK, my wife loves me.Collins has taking Quarry in a novel direction. Rather than being hired through a middle man to hit people, he's managed to obtain the list of contacts kept by the broker and is using it to determine who the target might be. He then contacts the target and offers to eliminate the threat from the hit man -- for a fee, of course. Cute. You can read a basic plot summary above, so I don't feel it necessary to reiterate it. Let's just say that after the preliminaries, Quarry thinks something's just not right. Fun.
Review by Sheila1957
16/06/2015
Quarry is a hitman who kills hitmen. When a hit is ordered he follows the hitmen and discovers who their victim is and offers to kill them instead. He will then, for a price, discover who hired the hit. Quarry follows the stake-out guy to a small Missouri town and finds the victim is a dancer studio owner. Offering his services to the owner, he sets out to kill the hitmen and find out who wants the hit. Along the way he discovers that maybe, just maybe, this time he might be on the wrong side. This is my first Quarry book. I liked him, his work ethic, and his luck with the ladies. He does genuinely want to do what is right, not just kill for killings sake. The story is believable and well thought out. It's full of action and adventure with some sex thrown it. I will be finding more Quarry books to read. He's my kind of guy.
Also in the Hard Case Crime series | View all