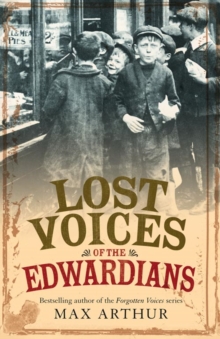 Lost Voices of the Edwardians : 1901-1910 in Their Own Words
Paperback / softback
Description
Max Arthur, bestselling author of the hugely popular Forgotten Voices series, recaptures the day-to-day lives of working people in the Edwardian era. The Edwardian era is often eclipsed in the popular imagination by the Victorian age that preceded it and World War I that followed.
In this wonderful work, Max Arthur redresses this imbalance, combining oral history and images from the rediscovered Edwardian Mitchell and Kenyon film footage to give voice to the forgotten figures who peopled the cities, factories and seasides of Britain. This extraordinary period was fuelled by a relentless sense of progress and witnessed the invention of many of the technologies we now take for granted.
The extremes of this upstairs-downstairs world prompted a huge upsurge in political activity, and the Edwardian age saw the rise of socialism and the emergence of the suffragette movement.
These years are made all the more poignant by our knowledge that World War I was imminent and this time of optimistic development would be brutally cut short. This exciting work draws together the experiences of people from all walks of life, capturing the first generation that were able to record their lives on film and imbuing them with an emotional immediacy.
Information
Format: Paperback / softback
Pages: 320 pages, (b/w integrated illustrations - c. 65)
Publisher: HarperCollins Publishers
Publication Date: 02/04/2007
Category: British & Irish history
ISBN: 9780007216147
Free Home Delivery
on all orders
Pick up orders
from local bookshops