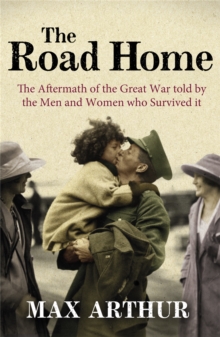 The Road Home : The Aftermath of the Great War Told by the Men and Women Who Survived it
Paperback
Description
How the men and women of Britain found 'the road home' after the Great War.
From the SUNDAY TIMES bestselling author of THE LOST POST.11am, 11.11.1918: the war is finally over.
After four long years Britain welcomed her heroes home.
Wives and mothers were reunited with loved ones they'd feared they'd never see again.
Fathers met sons and daughters born during the war years for the very first time.
It was a time of great joy - but it was also a time of enormous change.
The soldiers and nurses who survived life at the Front faced the reality of rebuilding their lives in a society that had changed beyond recognition.
How did the veterans readjust to civilian life? How did they cope with their war wounds, work and memories of lost comrades? And what of the people they returned to - the independent young women who were asked to give up the work they had been enjoying, the wives who had to readjust to life with men who seemed like strangers?
Information
Format: Paperback
Pages: 288 pages, 16 Illustrations, unspecified
Publisher: Orion Publishing Co
Publication Date: 14/10/2010
Category: British & Irish history
ISBN: 9780753827208
Free Home Delivery
on all orders
Pick up orders
from local bookshops
Reviews
Showing 1 - 1 of 1 reviews.
Review by john257hopper
16/06/2015
This is another of Max Arthur's collection of short reminiscences from First World War veterans, taken from various sources, including from the Imperial War Museum's sound archives. As the title suggests, this focuses on what happened once the fighting had ended - the reactions to the Armistice, both on the Front and at home, demobilisation, the horrific effects of physical and mental injuries, readjustment to civilian life and work, and survivors' attitudes towards remembrance and commemoration in later years. Interviewees are varied - front line soldiers mostly, but also auxiliaries, conscientious objectors and family members.What is perhaps most striking is how differently people reacted to their experiences: some were broken physically and/or mentally and scarred for life, while others say they emerged stronger as they could cope with anything in life after surviving what they had been through. Many came to hate all war, feeling it had been an utter waste, and became pacifists; others joined the regular forces or considered it had been all worthwhile. Nevertheless, some very common points seem to emerge:the general reaction on the Front to the Armistice was quiet relief and numbness, rather than joy and exhilarationdemobilisation was frustratingly slow and the sudden absence of any sense of purpose led to a lot of problems, punctuated by the horrors of Spanish flu killing survivors and families like flies (one sergeant major learned that one of his daughters had died of the flu, returned home and while there, his wife and other five children all died; he came back to the Front and died also).many survivors found it hard to find work when they returned; the civilian economy had shrunk during the war, so jobs in many cases no longer existed, despite the previous promise that they would be kept open. There is one shocking account of the benches on the Embankment in London being full one night of ex-soldiers sleeping rough, small reward for the sacrifices they had made.many survivors were very sceptical about the value of remembrance and commemoration and of the motives of civilian politicians who instituted the two minutes silence and the events at the Cenotaph - many of them really did not want to remember at all.This book does contain slight weaknesses present also in the author's other works: there is no real analysis of the accounts, bringing together key points; and the reminiscences are rarely dated - some are from immediately after the war, others from many decades later - and this absence can alter one's perspective about them in some cases.