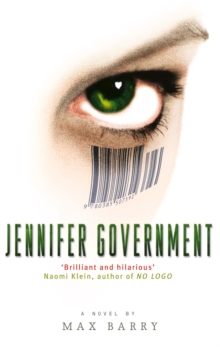 Jennifer Government
Paperback
Description
In Max Barry's twisted, hilarious and terrifying vision of the near future, the world is run by giant corporations and employees take the last names of the companies they work for.
It's a globalised, ultra-capitalist free market paradise! Hack Nike is a lowly merchandising officer who's not very good at negotiating his salary.
So when John Nike and John Nike, executives from the promised land of Marketing, offer him a contract, he signs without reading it.
Unfortunately, Hack's new contract involves shooting teenagers to build up street cred for Nike's new line of $2,500 trainers.
Hack goes to the police - but they assume that he's asking for a subcontracting deal and lease the assassination to the more experienced NRA. Enter Jennifer Government, a tough-talking agent with a barcode tattoo under her eye and a personal problem with John Nike (the boss of the other John Nike). And a gun. Hack is about to find out what it really means to mess with market forces.
Information
Format: Paperback
Pages: 352 pages
Publisher: Little, Brown Book Group
Publication Date: 05/02/2004
ISBN: 9780349117621
Free Home Delivery
on all orders
Pick up orders
from local bookshops
Reviews
Showing 1 - 5 of 17 reviews.
Previous | Next
Review by ChadReasco
16/06/2015
A book in which the author sets up a world with an interesting premise and then absolutely refuses to explore it! This guy really knows his sit-coms. A+++++billion, probably stands up to repeated reading!!!!
Review by tedmahsun
16/06/2015
Jennifer Government is to capitalism what Nineteen Eighty-Four is to totalitarianism. And it's funnier too Taxes have been abolished and US companies have taken over half the world. People in US-affiliated countries take up their company's names as surnames. A near-literary thriller that puts forward some interesting ideas and cleverly satires the ruthless expansion of US-based corporations.
Review by kaelirenee
16/06/2015
What 1984 is to government run amok and Handmaids Tale is to religion run amok, so Jennifer Government examines what happens when the free market takes over. Like all good dystopia, the society isn't the story-there's a lot of intruige, humor, the little guy sticking it to the big guy, and a really strange tattoo. The character backstories are interesting and combined really well.
Review by ErasmusRob
16/06/2015
Frankly, I was disappointed. Oh, it was interesting enough, but the concepts of corporations supplanting governments were done by Neal Stephenson in "Snow Crash" and Robert Heinlein in "Friday," and rather better, if I recall correctly. Even the notion of assuming a corporate identity is not new; check out Bester's "The Stars My Destination.The plotline is interesting enough, but there seemed to me to be too many characters getting too incestuously intertwined. Read it, by all means, but I'd recommend you get it from the library.
Review by woosang
16/06/2015
A throughly enjoyable story. Parts of it are a bit disturbing as they are possible, the globalisation of shopping etc. I am confused by the quote on the front tho....'Brilliant and hilarious' - Naomi Klein, author of No LOGO.Did we read the same book?? There is nothing hilarious about this book. A fast story and easy to read.