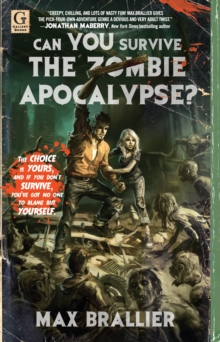 Can You Survive the Zombie Apocalypse?
Paperback
Description
If you choose to hide in the basement, turn to page 15.
If you want to grab the shotgun and head for the roof, turn to page 35.
Can You Survive the Zombie Apocalypse?offers 150 Paths and 75 Endings (40 ending in death, 20 ending in zombification, and 15 ending in survival).
No longer are you given the luxury of sitting back and watching the fools on the page or screen make all the wrong moves.
All hell is about to break loose - and this time youhave a say in humanity's survival.
You're 27 years old. You live in a crappy, over-priced studio apartment in Manhattan.
You work a corporate job that you're not particularly fond of.
Up until now, your day-to-day life offered few surprises.
But now, on a hot and humid July morning, zombies have come to Manhattan.
You have choices to make now - lots of them. Moral dilemmas. Strategic decisions. Weapons. Vehicles. Will you be a hero? Or will you cover your own ass at all costs? Will you survive the coming hours, days, weeks, and months? Or will you die amidst the chaos and violence of a zombie uprising? Or, worst of all, will you become one of them...? The choice is yours. And if you don't make it, you've got no one to blame but yourself.
Information
Format: Paperback
Pages: 400 pages
Publisher: Simon & Schuster
Publication Date: 01/02/2011
Category: Horror & ghost stories
ISBN: 9781451607758
Free Home Delivery
on all orders
Pick up orders
from local bookshops
Reviews
Showing 1 - 5 of 9 reviews.
Previous | Next
Review by bookwormygirl
16/06/2015
This was awesome! Although, I must confess that I am just way too neurotic for this type of book. Well if you're anything like me I'm sure you've always wondered whether or not you'd survive a zombie apocalypse. I know I have and I've always come to the same conclusion... NO! I'm too clumsy, too OCD and way too neurotic to survive. I admit it (bows head in shame). Well, this is the book that may just help you come to terms with whether or not you'd survive or become a brain muncher like most every one else.You, the reader, are the main character in this book (although ladies, you are a male)... but whatevah. I digress. You realize that Manhattan has had a zombie outbreak and you need to get the heck out of Dodge... what do you do? Do you take the next subway train outta there? Catch a cab? Or go home and hideout? Oh yes, these are the types of questions you will be asked in order to move on to the next chapter in the story. You will face moral dilemmas, strategic decisions, become a hero or die a gruesome death. The outcome will be based on your decisions.Thus my problem! I died in about every way you can think of! I'm too much of a girl... or a wuss. I tried to run away... a lot, and that never worked out. Needless to say, I became a brainless brain muncher or was blown up to smithereens a few times. But, I still enjoyed it! This was so fun. I loved how each choice you made took you down a different path with your very own ending... some hopeful, some deadly and others inspiring. It was definitely different from anything else I've ever read (I was never into those "Choose Your Own Adventure" books growing up). Full of laughs, loads of action and just the right amount of zombie gore. A treat for zombie lovers! I'll say it again... it was awesome!
Review by IbnAlNaqba
16/06/2015
I was thrilled to find a "Choose Your Own Adventure" style novel for adults set in a zombie apocalypse. It seems this format has had a minor resurgence lately, with authors experimenting with a variety of themes... especially given the suitability of the format for e-book use. For a zombie novel the format works particularly well... it draws the reader into the action, allowing them to be a participant rather than just visualizing the narrative, and makes for a fast, exciting read with good potential for rereading over and over. The pace, energy and over-the-top nature of this particular work kept me engaged, and I read and reread the work until I'd finished every possible ending, and then ended up looking for other zombie novels using the same format (there are several, and I look forward to reading at least some of them as well). While not recommending this for anyone looking for an earthy, serious zombie apocalypse novel, I definitely recommend it for anyone just looking for a fast-paced, often funny zombie-themed action read that doesn't leave much opportunity for deep thought, and in fact almost expressly forbids it.
Review by RavenswoodPublishing
16/06/2015
MAX BRALLIER'S "CAN YOU SURVIVE THE ZOMBIE APOCALYPSE"(REVIEW)Another awesome Zombie book but in this one you actually get to map out your path. You begin reading and choose the direction in which you want to go in order to achieve survival. I was surprised that I got out the first time around but then had to go back and try all scenarios just to see where the options would lead. This is a definite must-read for any Zombie horror fan.Max Brallier has done an awesome job of coming up with 100 paths and 50 endings to choose from. It will keep you second guessing your choices the entire way. I was simply amazed! Zombie fans HAVE TO READ THIS BOOK!-Kitty Bullard / Great Minds Think Aloud Book Club
Review by Meggle
16/06/2015
A "choose your own adventure" novel for adults about the zombie apocalypse. Entertaining and a lot of fun to read.
Review by katlb82
16/06/2015
Do you remember the Choose Your Own Adventure books from your childhood/teenage years? They were amongst some of the most popular books in the library when I was in Primary School....all the cool kids had one!So when I stumbled across this book I had to have it. Now. Right now. And thanks to the magical power of Amazon, I could have it almost now.This isn't really a book I can review in great detail because, well the ending is different depending on the path you choose! The fun with these type of books is every choice you make influences how the story progresses and how far you get in evading zombies, helping the military or meeting a grisly end!As such, you can't really determine when you have 'read' this book in it's entirety (unless you get a little bit anal and track which paths you have and haven't chosen and mark them off - I didn't go THAT far). However, that also means that you can pick it up at any time, read one 'path' and come back to it again and again.The writing style is kinda 'blokey' and a little sexist towards women in some places, but hey, this is a pure fun book - and I loved it!