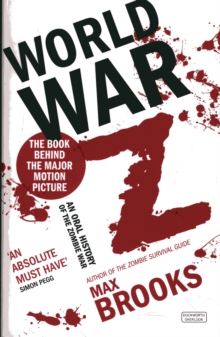 World War Z : An Oral History of the Zombie Wars
Paperback
Description
It began with rumours from China about another pandemic.
Then the cases started to multiply and what had looked like the stirrings of a criminal underclass, even the beginnings of a revolution, soon revealed itself to be much, much worse.
Faced with a future of mindless, man-eating horror, humanity was forced to accept the logic of world government and face events that tested our sanity and our sense of reality.
Based on extensive interviews with survivors and key players in the 10-year fight-back against the horde, World War Z brings the very finest traditions of American journalism to bear on what is surely the most incredible story in the history of civilisation.
Information
Format: Paperback
Pages: 344 pages
Publisher: Duckworth Overlook
Publication Date: 27/07/2007
Category: Science fiction
ISBN: 9780715637036
Free Home Delivery
on all orders
Pick up orders
from local bookshops
Reviews
Showing 1 - 5 of 9 reviews.
Previous | Next
Review by penwing
16/06/2015
This book was immense fun. Taking the style of a series of interviews with survivors of a zombie pandemic this book covers humanity's attempts to survive.The book swings from the uncertainty and disbelief through to mass panic and then the desperation of the situation and life under siege before eventually the hope inherent in mankind's fight back.Each of these moods comes across really well by allowing each voice to only tell one small part of the story. You don't get a single narrative featuring a single person or small group of people and their fight from start to finish. The characters do not meet and save the day. Stories come from all over the world and the various techniques and reactions to the new threat are explored.So, I highly recommend this book.
Review by edgeworth
16/06/2015
As I mentioned a little while ago, I have an understandable aversion to zombie fiction of any kind these days, in the same way that a man living in a glorious palace of chocolate might long for a piece of celery. It's also partly due to the fact that so much zombie fiction is stale and repetitive, featuring plucky survivors holed up in a farmhouse with no idea of what's going on in the outside world.World War Z, by renowned zombie expert Max Brooks (author of 2004's Zombie Survival Guide), takes a completely different stab at things. It's a comprehensive "oral history" examining the global effects of a mass zombie pandemic, interviewing subjects from all over the world who were involved in different areas of the conflict. There's everyone from a Brazilian black market surgeon who sees one of the first cases, to an American schoolgirl who flees into the Canadian north with her family, to a greedy pharmaceutical executive who exploits the panic to create a lucrative placebo.The entire book is comprised of fictional post-war interviews, and the beauty of this approach is that it allows both a global examination, and the single-person survival narrative that the genre is founded on. We see inside the head of everyone from the Vice-President of the United States to a wretched feral child who was forced to grow up in the wild. Many of these form quite fascinating stand-alone stories, notably the US Air Force pilot who survives a plane crash and must make her way to an evacuation point through the Lousiana swamps, aided by a voice on her radio that may just be her imagination; and the Chinese submarine commander who deserts with his crew and sets off on a journey through the Waterworld-esque oceans, bartering with refugee ships, examining zombie-infested coastlines and trying to stay ahead of hunter-killer subs from the Chinese navy.Like the best zombie fiction, this book is a parable. Just as Dawn of the Dead criticises American commercialism and consumption, World War Z attacks bureaucratic incompetence, human greed and the insular, self-absorbed nature of the American people. Brooks strays away from mentioning any specific people or events, in order to keep the book timeless; for example, the Iraq War is referred to as "the last brushfire war." One of the most interesting things I found here was his prediction that we won't lose in Iraq, but that it will be perceived as a loss, because it has taken so much time and money and lives - that it wasn't a knock-out blow like Americans want and expect.There are a few criticisms I'll level at the book. While Brooks paints the characters quite well, they occasionally seem to be the wrong character: for example, the slick, corrupt pharmaceutical executive who escaped to a stronghold in Antarctica after making billions on a false miracle cure spoke like a Brooklyn street punk. Some of the characters (especially non-Americans) are quite often stereotypes, such as the befuddled English fop who loves his queen, the California diver who thinks whales are awesome, or the double whammy for the Japanese: an otaku geek with no social skills and a wise, honourable sensei steeped in tradition and skilled with the blade. Despite being far more globally aware than I'd expect from an American author, the book is still quite US-centric, and I was a little disappointed that Australia didn't get much of a look-in. There is a single Australian character, for the record, whose narrative is the last one you'd expect: as commander of the International Space Station. He's as intelligent, articulated and wise as you'd expect such a man to be, though Brooks couldn't resist throwing in at the end: "Not bad for the son of an Andamooka opal miner." Sigh.On the whole, however, this is still a great book. It's well-crafted enough to appeal to those who wouldn't normally read fiction of this type, with the benefit of a few allegorical moral messages in there as well. It's breaths of fresh air like this that the genre desperarely needs.
Review by elliepotten
16/06/2015
Despite having owned the book for years, pretty much all I knew about it was that everyone seems to love it, and that it does what it says on the cover - it's an oral history-style zombie novel. I thought it was fantastic! It's so convincing that occasionally, when I was reading a segment more focussed on something not directly zombie contact-related (military tactics, say), I forgot I was reading fiction. In these more technical areas I genuinely have no idea how much detail is real, and how much was entirely fabricated by Brooks. The oral history format also made it extremely addictive, because each person's perspective only lasts a few pages at most, so it's too easy to read 'just one more'. This isn't light reading, exactly, but if I've managed to make it sound even remotely intriguing then I highly recommend giving it a try!
Review by bhutton
16/06/2015
Fantastic book, beautifully written and presented. The characters tell there story in a believable way, Brooks manages to focus on how people deal with the world collapsing around them while still providing enough exposition that the plot has a compelling arc.
Review by readaholic12
16/06/2015
Interesting and imaginative variation on zombie apocalypse theme, written in documentary interview style. Chilling and fascinating commentary on post-apocalyptic social evolution. The only thing I wished for was more detail in some of the story lines. Highly recommended.