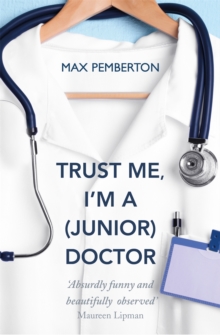 Trust Me, I'm a (Junior) Doctor
Paperback
Description
If you're going to be ill, it's best to avoid the first Wednesday in August.
This is the day when junior doctors graduate to their first placements and begin to face having to put into practice what they have spent the last six years learning.
Starting on the evening before he begins work as a doctor, this book charts Max Pemberton's touching and funny journey through his first year in the NHS.
Progressing from youthful idealism to frank bewilderment, Max realises how little his job is about 'saving people' and how much of his time is taken up by signing forms and trying to figure out all the important things no one has explained yet -- for example, the crucial question of how to tell whether someone is dead or not.
Along the way, Max and his fellow fledgling doctors grapple with the complicated questions of life, love, mental health and how on earth to make time to do your laundry. All Creatures Great and Small meets Bridget Jones's Diary, this is a humorous and accessible peek into a world which you'd normally need a medical degree to witness.
Information
Format: Paperback
Pages: 304 pages
Publisher: Hodder & Stoughton General Division
Publication Date: 01/07/2008
Category: Autobiography: general
ISBN: 9780340962053
Free Home Delivery
on all orders
Pick up orders
from local bookshops
Reviews
Showing 1 - 4 of 4 reviews.
Review by Fluffyblue
16/06/2015
This is a fairly light read, but reveals how difficult a first year doctor's life is (or was) following the six years of medical school to train as a doctor. I think Pemberton must have written a column for The Telegraph, but as I don't read that paper I'm not aware of it - and this book follows that column.As above, although the book is quite light, I think it is well written and a fairly fast read. Pemberton makes some good points about the failures of the NHS, but also recognises some of its successes and what makes it such a "British Institution" that people from foreign countries hold so high in esteem. The book, at times, is both humourous and sad, but quite revealing in how it must feel to be thrown in at the deep end when completing the training to become a doctor.
Review by elliepotten
16/06/2015
I don't read The Daily Telegraph, so I'd never heard of Max Pemberton until I started to hear the gentle murmurings about this book. I picked it up on a whim when it arrived in a box of books at our shop, and it turned out to be well worth a read. It's a kind of diary of Pemberton's first year as a junior doctor, fresh out of medical school, terrified, and absolutely clueless as to the day to day running of a hospital ward. Along with his friends Ruby, Supriya and Lewis, he has to negotiate the egos of his consultants, befriend the nurses and secretaries who will help him adjust, learn to book scans and prescribe medication, cope with his mistakes and develop a confident bedside manner. Along the way there is death and despair, hope and uncertainty, joy and laughter.I learned a lot about the way a ward operates, and developed a whole new respect for the doctors and nurses who fight every day to alleviate suffering, sometimes against the most horrific odds. There are also some pertinent points made about the way the NHS has been politicised by the government and the changes that are being made against all common sense. It's nice to here a doctor's view of these issues rather than just the political spin placed on it for the media. All in all, this is a great little read; amusing, informative, eye-opening and full of heart.
Review by birdsam0610
16/06/2015
I can't remember where I first saw this book, but I was immediately interested. A real junior doctor, writing about his experiences in the first year after medical school? From my experiences, I thought it would be funny, sad and interesting- and I got exactly what I expected. Max is a brilliant writer and sounds like a fine doctor too. He has got the trials and tribulations of junior doctors across the globe down pat- it's not about saving lives and surgery, but filling in a million forms, charting boring meds and writing while trying to listen, learn and walk while your pager bleeps endlessly.Perhaps I'm biased because I work in the medical field myself, but Max explains things so brilliantly and poignantly- from seeing the first dead body, to continually working until you drop, forging bonds with patients and knowing that no matter what you do, you can't save everyone. It also realistically captures the grind of constant overtime and the doubt that follows after graduation. It's not all sweetness and light, but that's life in the hospital.There are some great characters in this book too- from housemate Ruby (who snares the McDreamy of the hospital- with Grey's Anatomy-like results) to Max's sister who invites him out when she has a medical issue.I was actually happy when I missed my train so I had more of an opportunity to read this- something that rarely happens.Well done Max, I look forward to reading your next book!
Review by cookiemo
16/06/2015
My daughter suggested I read this and I'm glad she did. I found it very funny and could visualise so many of the situations. The trepidation he felt when starting work was the same as we all feel in any type of work, so it was good to know doctors feel the same.