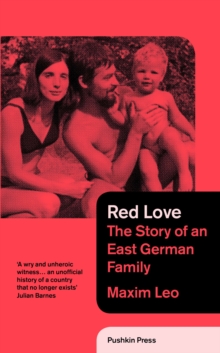 Red Love : The Story of an East German Family
Hardback
Description
Winner of the European Book Prize"The East isn't far away at all.
It clings to me, it goes with me everywhere. It's like a big family that you can't shake off ...""Tender, acute and utterly absorbing" Anna Funder, author of Stasiland"A wry and unheroic witness... an unofficial history of a country that no longer exists" Julian Barnes"Beautiful and supremely touching" Keith Lowe, Sunday Telegraph"Compelling ... [Leo] is terrific at elucidating the slow, incremental steps by which people come to lie to themselves...
Guile, guilt and disappointment drip from these pages and Red Love is all the more affecting for it" New StatesmanGrowing up in East Berlin, Maxim Leo knew not to ask questions.
All he knew was that his rebellious parents, Wolf and Anne, with their dyed hair, leather jackets and insistence he call them by their first names, were a bit embarrassing.
That there were some places you couldn't play; certain things you didn't say.Now, married with two children and the Wall a distant memory, Maxim decides to find the answers to the questions he couldn't ask.
Why did his parents, once passionately in love, grow apart?
Why did his father become so angry, and his mother quit her career in journalism? And why did his grandfather Gerhard, the Socialist war hero, turn into a stranger?The story he unearths is, like his country's past, one of hopes, lies, cruelties, betrayals but also love.
In Red Love he captures, with warmth and unflinching honesty, why so many dreamed the GDR would be a new world and why, in the end, it fell apart."Tender, acute and utterly absorbing.
In fine portraits of his family members Leo takes us through three generations of his family, showing how they adopt, reject and survive the fierce, uplifting and ultimately catastrophic ideologies of 20th-century Europe.
We are taken on an intimate journey from the exhilaration and extreme courage of the French Resistance to the uncomfortable moral accommodations of passive resistance in the GDR."He describes these 'ordinary lies' and contradictions, and the way human beings have to negotiate their way through them, with great clarity, humour and truthfulness, for which the jury of the European Book Prize is delighted to honour Red Love.
His personal memoir serves as an unofficial history of a country that no longer exists...
He is a wry and unheroic witness to the distorting impact - sometimes frightening, sometimes merely absurd - that ideology has upon the daily life of the individual: citizens only allowed to dance in couples, journalists unable to mention car tyres or washing machines for reasons of state." Julian Barnes, European Book PrizeWith wonderful insight Leo shows how the human need to believe and to belong to a cause greater than ourselves can inspire a person to acts of heroism, but can then ossify into loyalty to a cause that long ago betrayed its people." Anna Funder, author of Stasiland>>"Leo uses the intimate scope of his family to explore the turbulent political history of East Germany from a perspective that has not been seen before.
The result is an absorbing and personal account that gives outsiders an insight into life in the GDR" Shortlist"Affectionate, insightful...
Red Love is a fascinating tale... beautifully written and translated" Bookoxygen"Heartbreaking...
This very personal account allows us to better understand the reality of a kafkaesque regime, and the blindness of its elite that allowed it to survive for so long." La Tribune"The great charm of this book, about the gradual disintegration of the GDR, lies in the level-headed but loving attitude with which it investigates the interweaving of the private and political [in Communist East Germany], revisiting a child's-eye view of the era." Frankfurter Allgemeine Zeitung"A crucial book ... poignant ... a tragedy reminiscent of the great narrative poets, Dostoevsky or Koestler.
Maxim Leo has earned his place alongside them." Sud Ouest"A lyrical story about a family in a divided city" Hamburger AbendblattMaxim Leo was born in 1970 in East Berlin.
He studied Political Science at the Free University in Berlin and at the Institut d'Etudes Politiques de Paris.
Since 1997 he is Editor of the Berliner Zeitung. In 2002 he was nominated for the Egon-Erwin-Kisch Prize, and in the same year won the German-French Journalism Prize.
He won the Theodor Wolff Prize in 2006. He lives in Berlin.
Information
Format: Hardback
Pages: 272 pages, 22 black and white photographs
Publisher: Pushkin Press
Publication Date: 01/09/2013
Category: Memoirs
ISBN: 9781908968517
Free Home Delivery
on all orders
Pick up orders
from local bookshops
Reviews
Showing 1 - 2 of 2 reviews.
Review by roblong
16/06/2015
A surprisingly beautiful book. Leo charts his family history through three generations - the war generation who founded the GDR, their children who came of age during its rule, and their grandchildren who - like Leo - grew up feeling no connection to the stifling dictatorship, and who were glad to see it washed away.In talking about his family members' different attitudes to and roles in relation to the state, Leo puts together a personal history of the GDR that is genuinely illuminating. It is sparingly and convincingly written, and turns out to be a real treasure. Highly recommended.
Review by john257hopper
16/06/2015
A fascinating account of the life of several generations of an East German family. Maxim Leo is a young man when the Wall comes down in 1989. This is a fascinating account of the differing attitudes and assumptions of generations of his family. His great grandparents suffered (or otherwise) under the Nazis (one of them died in Auschwitz and another spent time in Oranienburg concentration camp). His grandparents' generation fought in the war as young adults, one of them being in the French resistance, and later were members of the idealistic generation that founded the German Democratic Republic. However disillusioned they later became, they generally retained a fundamental loyalty to the concept of their state as a bulwark against supposed fascism in Western Germany. Between this generation on the one hand, and, on the other hand, Maxim's generation with little or no loyalty or feelings towards their state, was the generation of Maxim's parents Wolf and Anne, who were small children when the GDR came into being, so were children of this system, with some of the instinctive loyalty of their parents, but with a growing wish for a wider variety of experiences in life and work than their state would permit them, culminating in the relatively sudden explosion of desire for freedom that caused the Wall to fall and the GDR to collapse in that heady autumn of 1989. A great read with a lot to say about generational attitudes and how they are shaped by external circumstances as well as the personae of the individuals themselves.