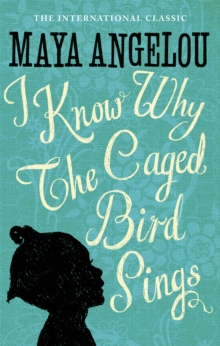 I Know Why the Caged Bird Sings
Paperback
Description
Maya Angelou's seven volumes of autobiography are a testament to the talents and resilience of this extraordinary writer.
Loving the world, she also knows its cruelty. As a Black woman she has known discrimination and extreme poverty, but also hope, joy, achievement and celebration.
In this first volume of her six books of autobiography, Maya Angelou beautifully evokes her childhood with her grandmother in the American south of the 1930s.
She learns the power of the white folks at the other end of town and suffers the terrible trauma of rape by her mother's lover.'I write about being a Black American woman, however, I am always talking about what it's like to be a human being.
This is how we are, what makes us laugh, and this is how we fall and how we somehow, amazingly, stand up again' Maya Angelou
Information
Format: Paperback
Pages: 320 pages
Publisher: Little, Brown Book Group
Publication Date: 26/01/1984
Category: Biography: literary
ISBN: 9780860685111
Other Formats
Hardback from £10.65
EPUB from £5.99
Paperback from £8.09
Free Home Delivery
on all orders
Pick up orders
from local bookshops
Reviews
Showing 1 - 5 of 8 reviews.
Previous | Next
Review by wendyrey
16/06/2015
Very well written autobiography covering an African- American's early years. My usual problems with biographies continue - where is the evidence??!!. Perhaps I would do better with the genre if I engaged fiction brain not factual, historical and scientific brain. Very, very good of the genre.
Review by Greatrakes
16/06/2015
I had this book on the shelf for ages, picked up through a book swap, but I put off reading it, fearing was a misery memoir, in fact it was a revelation. Maya Angelou is one of those rare writers who can remember what it's like to be a child and this is the world seen through the unsentimental eyes of a child, not the childhood world reinvented by an adult who wants give memories a varnish of grown-up sensibility.The early life was more engaging and less rushed, the hardships of the world of Southern States blacks during the 1930s and 1940s is compellingly drawn, as is the attitude of young Maya Angelou to the world around her. Her world revolved around her Grandmother's store and her neighbours are acutely described. This is also a very intimate memoir of her family, and in particular of the older brother who meant everything to her. The sheer otherness of the whites, who rarely intruded into her early life, is beautifully described. This is a book about the triumph of the will.
Review by bcquinnsmom
16/06/2015
A very well known book by a very well known author & poet. This is book one of a series in which Angelou sets down her autobiography. The writing is very well done.When you read this book, you'll find that the autobiographical details carefully reveal several strategies that enabled African-Americans at the time to deal with white people who felt that they were superior to blacks. Angelou grew up mainly in Arkansas (although was shuttled back and forth to St. Louis & California) in the pre-Civil Rights era, so outward resistance was not really a safe and sane option for African-Americans at the time. How she and her family dealt with white people, and what she learned by watching the examples of others seems to be the major focus in the novel, as well as the story of her life up to the time she had a child. Now I know that people rave about the book, but to me it was just okay. The writing, as I noted, was very good, and I almost had the feeling that I was reading a novel. The major problem with reading any autobiography is that true memories are often filtered through the eyes of others -- and I often caught myself wondering things like "how could a kid that age actually remember what she felt at that particular time?" Overall, just okay, but recommended.
Review by seldombites
16/06/2015
This was a good light read, and depicts the lives of African Americans in the pre-liberation era quite well. Having said that, this wasn't really my cup of tea - I didn't enjoy it as much as I thought I would.
Review by Mercury57
16/06/2015
Raped at eight years old; pregnant at 17. Not that great a start in life, particularly for a black American female living in Arkansas decades before the Civil Rights movement. But Maya Angelou is nothing if not strong. And it's that strength of mind and character that comes forcefully to life in I Know Why the Caged Bird Sings, the first part of her six volume autobiography.It's a coming of age book which traces her life from the age of three when she is sent with her brother Bailey to live with their grandmother in Stamps, Arkansas after the breakup of her parent's marraige. Living in the family general store, Angelou witnesses the realities of racial discrimination. One night she helps to hide a neighbour when alerted to possible Klan activity in the neighbourhood; another time she recounts the way a 'powhitetrash' girl taunts her grandmother, lifting up her skirts to insult her. Angelou herself is subjected to humiliation and racism. Working as a domestic servant to earn some pocket money, she is robbed of her name because Margurite (her birth name) isn't considered by her white employer to be appropriate for one of her kind. When she experiences the intense pain of a rotten tooth and is taken to a dentist in the nearest town, he refuses to treat her because of her colour.Set against this however is the way Angelou portrays the deeply held values of family, culture and faith in her community. And although much of what she relates is life at its most brutal, she is equally adept at describing its lighter moments whether its the uncontrollable laughter that bursts forth in the middle of a church sermon or the joy of discovering Charles Dickens, Shakespeare and James Weldon Johnson. It was through these authors and the careful nurturing of a family friend that helped facilitate her recovery from the traumatic effects of the sexual abuse and rape by her mother's boyfriend. Angelou became mute for almost five years after that incident, convinced that somehow she was partly to blame.I had sold myself to the Devil and there could be no escape. The only thing I could do was to stop talking to people….Just my breath carrying my words out, might poison people and they'd curl up and die like the black fat slugs that only pretended.Much of the book is episodic, with events related in a non linear fashion, but the thread that holds them together is Maya's growing sense of identity. She progresses from being a victim of racism with an inferiority complex to a self-aware individual with a strong sense of who she is and who responds to racism by refusing to acknowledge its existence. As a sixteen year old she becomes determined to be "in control of her fate' by getting a job as a conductor on a trolley car, eventually becoming the first black person to hold such a job.But though she matures, she reflects that the journey is not yet over for though she has graduated from school has beaten the odds to get some financial independence, and has become a mother, there is still a part of her that is unsure of what her journey has really meant.I had gone from being ignorant of being ignorant to being aware of being aware. And the worst part of my awareness was that I didn't know what I was aware of.
Also in the VMC Designer Collection series | View all