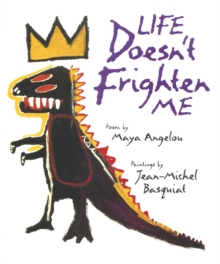 Life Doesn't Frighten Me at All
Hardback
Description
i>Shadows on the wallNoises down the hallLife doesn't frighten me at all" Maya Angelou's brave, defiant poem celebrates the courage within each of us, young and old.
From the scary thought of panthers in the park to the unsettling scene of a new classroom, fearsome images are summoned and dispelled by the power of faith in ourselves.Angelou's strong words are matched by the daring vision of artist Jean-Michel Basquiat, whose childlike style reveals the powerful emotions and fanciful imaginings of childhood.
Together, Angelou's words and Basquiat's paintings create a place where every child, indeed every person, may experience his or her own fearlessness.In this brilliant introduction to poetry and contemporary art, brief biographies of Angelou and Basquiat accompany the text and artwork, focusing on the strengths they took from their lives and brought to their work.
A selected bibliography of Angelou's books and a selected museum listing of Basquiat's works open the door to further inspiration through the fine arts.
Information
Format: Hardback
Pages: 32 pages, colour illustrations, bibliography
Publisher: Stewart, Tabori & Chang Inc
Publication Date: 06/02/1993
Category: History of art / art & design styles
ISBN: 9781556702884
Free Home Delivery
on all orders
Pick up orders
from local bookshops
Reviews
Showing 1 - 5 of 6 reviews.
Previous | Next
Review by mcprice
16/06/2015
The poetry in this book is amazing. Maya Angelou writes that even with scary things, there is no reason to fear life. The painter did a great job, and his work reflects what Angelou was saying.
Review by scote23
16/06/2015
Life may not frighten me, but I must admit that many of Basquiat's paintings leave me feeling unsettled. I love Maya Angelou's poem though, and I think the combination of paintings and stanzas is good.
Review by MaryBethLingner
16/06/2015
"Life Doesn't Frighten Me" was an excellent poem that was incredibly insightful. First, I liked it because the illustrations accompanied the poem perfectly. All the illustrations looked as though children could have drawn them, which gave the poem more meaning because it was about all the things children fear. An example of this would be the line, "That new classroom where/ Boys all pull my hair/ (Kissy little girls/ With their hair in curls)/ They don't frighten me at all." The illustration that accompanies these lines is a stick figure drawing of a boy with his arms up ready to pull someone's hair, standing behind a black chalkboard full of scribbles. I think the child-like illustrations gave the poem an authenticity and deeper insight it wouldn't have had without them. I also liked the poem because almost every time the author described something scary, she would say afterwards "Life doesn't frighten me at all." This is seen through the lines, "Tough guys fight/ All alone at night/ Life doesn't frighten me at all." I think the repetitive refrain was very important for this poem, because it reinforces to children that life is not something that should be feared. I believe the main idea of, "Life Doesn't Frighten Me" is to showcase to children that even though there are some scary things in life, they should not be afraid of the world because the good things in life outweigh the bad.
Review by kradish
16/06/2015
Basquiat illustrates Angelou's poem about being brave, no matter what comes. No inspiration for anyone who doesn't yet feel particularly brave, but could be very good for those who thrive on bravado...
Review by zfrid
27/08/2015
I was skeptical at first but after reading this book I absolutely loved it! First, the artwork created by Jean-Michel Basquiat is amazingly eccentric and depicts common fears of children. Even though the pictures are scary, they truly enhance the poem and make the story come to life. I also loved that the poem was told in a story-like manner throughout the entire book. Also, Maya Angelou repeats the phrase "life doesn't frighten me at all" which reinforces the message of the book: don't be afraid, be strong. This book is about how life truly isn't that scary even though shadows and noises and the dark of night may seem frightening. For example, Maya Angelou's powerful words such as "shadows on the wall, noises down the hall" spark a sense of fear in the reader. But she continues to reassure us that life isn't scary and all we need to do is be brave. Finally, at the end of the book were short biographies of the author and illustrator and a list of more works by each. I liked that the book included this because it gives children the opportunity to explore more works by Maya Angelou and allow children to get to know the author a little better. Just remember; don't be afraid, be strong!