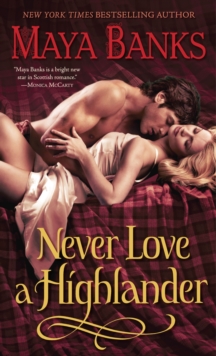 Never Love A Highlander
Paperback
Information
Format: Paperback
Publisher: Random House USA Inc
Publication Date: 25/10/2011
Category: Historical romance
ISBN: 9780345519511
Free Home Delivery
on all orders
Pick up orders
from local bookshops
Reviews
Showing 1 - 5 of 17 reviews.
Previous | Next
Review by thehistorychic
16/06/2015
Read for FunChallenges: Read for FunOverall Rating: 4.50Story Rating: 4.50Character Rating: 4.50First thing I thought when Finished: Good wrap up of the trilogy but wanted Gannon to fall madly in love with someone :)What I Loved: Never Love a Highlander wrapped up the McCabe Trilogy very well leaving us with hope, love, and family. I always like when everyone is involved in the last book and you leave a series smiling. This was definitely one of those stories that I thought weaved together very well. Rionna was a fantastic leading lady and I felt her story was moving.What I Liked: Caelen and Rionna were a fantastic couple but I didn't love them as much as the other two couples. That being said, I was rooting for them the whole time!What left me wanting: Gannon not getting an HEA! I really loved his character :)Final Thought: I would highly recommend the whole series
Review by Conkie
16/06/2015
A satisfying ending to this trilogy. Ms. Banks does an excellent job of maintaining each character's "voice" from story to story; a definite plus to any series.
Review by bkluvr4evr
16/06/2015
Fastastic ending to the McCabe trilogy. Kept me on engaged all the way through. Caelen proves to have a love beyond a girls wildest dreams. Rionna is a wonderful warrior princess and very happy to have her strengths acknowledged .. Highly recommend.
Review by arlenadean
16/06/2015
Author: Maya BanksPublished By: Ballantine BooksAge Recommended: AdultReviewed By: Arlena DeanRating: 5Review:"Never Love a Highlander" by Maya Banks was as always a wonderful read. This novel was a conclusion to a wonderful trilogy that only this author..Maya Banks can deliver. The novel was of a 'Scottish' historical romance of the McCabe trilogy. What would become of Caelen and Rionna as he takes over the McDonald Clan...where there had been a marriage out of the sense of duty...returns to take over the McDonald clan. Ms. Banks offers us a relationship between Caelen and Rionna only causing this to be a very hot, steamy and sexual read...all the characters were so very strong and well developed that would only keep the reader on the edge of their seat. You will find from the read that this hero and heroine both "had been wounded deeply by their pass and nothing could heal it but only each other." Now, for you to found out how this will play out you must pick up "Never Love a Highlander" to find out just what Ms. Banks has in store for the reader. I felt this novel flowed very well...especially with it being the last of this series...being very interesting and even suspenseful. Be ready for a novel presenting..."romance, betrayal, a bit of mystery" and a over all excellent read. If you are looking for a 'McCabe Series' that only Ms. Banks can give us... you have come to the right place and yes I would recommend "Never Love a Highlander" as a excellent read.
Review by hoosgracie
16/06/2015
Final book in the trilogy. I enjoyed the spunk of the heroine, who was not just a door mat.