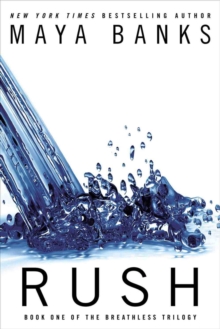 Rush : Book One of the Breathless Trilogy
Paperback
Information
Format: Paperback
Pages: 410 pages
Publisher: Penguin Putnam Inc
Publication Date: 05/02/2013
Category: Adult & contemporary romance
ISBN: 9780425267042
Free Home Delivery
on all orders
Pick up orders
from local bookshops
Reviews
Showing 1 - 5 of 24 reviews.
Previous | Next
Review by MyBookAddiction
16/06/2015
This story was about millionaire Gabe Hamilton and Mia Crestwell, who was the little sister of his business partner Jace. Gabe had always been interested in Mia but was waiting for her to grow up before acting on his feelings. He wanted a relationship with her but not a conventional one. His included a contract, secrets and dominancy.It was hard to like Gabe at the beginning but in the end it was easy to fall in love with him. The only complaint would be you never knew why Gabe had self-esteem issues. He was a great businessman, devoted son, and great friend to Jace and Ash. It was in third person so we could understand what both Gabe and Mia were feeling. Mia was not as timid as Gabe thought and she learned to stand up for herself. The book did contain explicit sex scenes which included spanking and bondage. This was book one of the trilogy and looking forward to Fever and Burn which will be about Jace and Ash.Rating 4.5Heat Rating: HotReviewed by Donna McClaugherty
Review by Staciele
16/06/2015
For most of the book, I was interested in the relationship between Gabe and Mia as well as between Mia and her brother. The premise is common, guy falls in love with best friend's sister, but what was uncommon was how their relationship played out. I was interested in how they were going to keep their secret from Jace, how Mia would handle her personal and professional relationship with Gabe, and how Mia would handle being in this type of controlling relationship. As someone who at one point in her life was in a relationship full of power and control, those parts of the book were definitely a turn off. In no way did I find those parts of the book healthy or loving. That is what turned me off from reading the FIFTY SHADES OF GREY series. In a lot of ways this book was very similar to that book with a wealthy bachelor becoming infatuated with a naive woman, but there were differences as well. I think if you liked that series you will like this one just as much, if not more.Gabe was a jerk and his selfish behavior and greed made him very unlikable to me. Even though he does redeem himself in the end, I am not entirely convinced that he will overcome his issues. His relationship with Mia lacked emotion and if they are to remain interesting in future books, there is going to have to be more meaning to what is happening with them. RUSH is the first is a series that reminds me a bit of the BACHELOR series by Carly Phillips in the early 2000's. The series focused each book on one of three bachelors much like this series. The next book by Maya Banks, FEVER, arrives April 2, 2013. The final book, BURN, arrives in August 2013.
Review by AmyCR
16/06/2015
Love Maya Banks and this one does not disappoint. Gabe did annoy me but Mia is AWESOME. Looking forward to the next one in the series.
Review by 2Sunny
16/06/2015
To me, this is Bank's answer to 50 Shades of Grey. The parallels are many. It is nice to have the whole story in one book instead of the trilogy. It is told even better for the most part. The BDSM scenes were explicit and I must admit not for me so I skipped some. The story did not lack for skipping. It was well told, characters well developed and loveable. <br/><br/>I am looking forward to Jace and Ash's book or books. <br/><br/>Mia is the younger sister of Jace. Gabe's best friend. She has had a crush on Gabe since her teen years. When he is honest with himself he has had a crush on her for almost as long. His ex wife accused him of it but he refused to believe. Yes ex wife, Lisa. <br/><br/>Gabe's world has been shaken and his confidence at times lacking everywhere that is but the bedroom. Mia helps him see that what he wants he has never yet experienced. A beautiful HEA, very touching. Great read.
Review by SBookLover
16/06/2015
I spent the last few hours dwelling on how to rate this book...<br/>Honestly I never read anything from this author so I didn´t know what to expect.<br/>Well as a reader I can honestly say that the author´s writing is pretty good, she as creativity and knows exactly out to play her characters, their surroundings, the importance of details. But let me just say this:<br/>Never, EVER was I embarrassed or felt disgusted by the male characters of any books I read. <br/>I´ve read tons of romances in my life, even not using Goodreads for that long or reviewing books, I ´ve read a lot of romances, and I don't believe I ever hated a guy so much.<br/>Starting you get the insight on him, powerful, impulsive, possessive, cold, dominant and with a clear pull for kinky stuff. Believe me nothing wrong with that. When I read a book I want the drama, the kinkiness, the dominance, the possessiveness, that´s what makes a love story fun and appealing, what pulls you to the alpha males and leaves us with that wanting desire in the end of the book to find a guy like that. <br/>And the female character is expected to be fooled, because she has, with all his flaws the perfect guy standing by her side, showing her absolute love despite of the craziness involved. <br/>But this :O just disgusting. <br/>Ok you´re scared of your feelings, you don't know what to do about them, or even our afraid the girl says no or pushes you away, FINE. Understandable<br/>But having those feelings and exposing your love ( so you say ), to 3 fucking guys to see naked and touch?!?!?!?!?!?!?!??!?!? NNOO Not acceptable by anyone's standards<br/>And getting to the point of the asshole beating her? Oh hell NO. <br/>And her? Oh my god, he may love you girl, but forgiven that? Just STUPID<br/>That made me even madder. <br/>And to end this, the guy seeks to the lowest of lows, when he completely dismisses her by being a fucking coward (alpha males aren't supposed to be cowards) and not telling her he loves her (if that´s even true).<br/>Ok the guy crawled at the end of the book, but in my opinion after all that he´s done trough out the book, not all the crawling in the world would be enough. <br/>The guy was a complete and utterly ASSHOLE. The alpha is supposed to be dominant, possessive, jealous, crazy and extremely demanding but at the same time romantic, thoughtful, care about the girl and do everything for her even if that means being crazy and messed up, not a complete ASSHOLE!!!!!!!!!!!!!!!!!<br/>