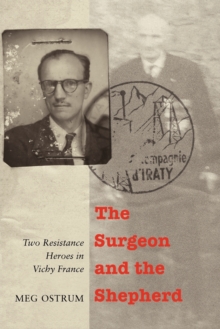 The Surgeon and the Shepherd : Two Resistance Heroes in Vichy France
Paperback / softback
Description
Of the thousands of people who escaped through the Pyrenees during World War II, at least one hundred owe their lives to a daring scheme that Belgian Charles Schepens masterminded in Mendive, a remote Basque village near the French-Spanish border.
The story of this near-miraculous resistance effort, an epic undertaking carried out in plain view of the Nazis, is recounted in full for the first time in The Surgeon and the Shepherd, an incredible, true tale of wartime heroism.
In 1942, in coordination with the Belgian resistance, Schepens stage-managed a highly secret information and evacuation service through the counterfeit operation of a back-country lumbering enterprise.
This book traces Schepens's gradual transformation from an apolitical young ophthalmologist into double agent "Jacques Perot," and his emergence in the postwar period as a modern folk hero to the residents of Mendive.
Woven into the account are the stories of a remarkable international cast of characters, most notably the Basque shepherd Jean Sarochar, regarded as a local misfit, with whom Schepens formed his most unlikely partnership and an enduring friendship. Part biography, part spy tale, part cultural study, The Surgeon and the Shepherd is based on more than ten years of oral history research.
The saga of a Belgian "first resister" who, by posing as a collaborator, successfully duped both the Germans and the local French Basque population, it offers a powerful and illuminating picture of moral and physical courage.
Information
Format: Paperback / softback
Pages: 248 pages, 26 illustrations, 3 maps
Publisher: University of Nebraska Press
Publication Date: 01/07/2011
ISBN: 9780803236417
Free Home Delivery
on all orders
Pick up orders
from local bookshops