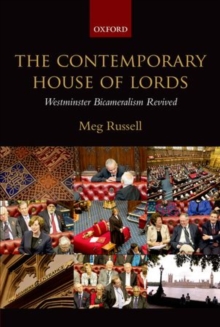 The Contemporary House of Lords : Westminster Bicameralism Revived
Hardback
Description
As the second chamber of the Westminster parliament, the House of Lords has a central position in British politics.
But it is far less well-studied and well understood than the House of Commons.
This is in part because of constant expectations that it is about to be reformed - but most Lords reform plans fail, as the Coalition government's dramatically did in 2012.
Meanwhile, following a landmark change in 1999 which removed most of its hereditary members, the Lords'role in the policy process has grown.
Understanding the chamber is therefore now essential to understanding politics and parliament in Britain. This book provides the first detailed portrait of the post-1999 Lords, explaining who sits in the chamber, how it operates, and crucially what policy impact it has.
Its membership is shown to be more diverse and modern than many would assume, and its influence on policy to be substantial.
As a 'no overall control' chamber, in which no party has a majority, it has inflicted numerous defeats on the Blair, Brown and Cameron governments, and become an important site of negotiation.
It has provideda power base for the Liberal Democrats, and includes a group of almost 200 independents who now play a pivotal role.
Close study of today's House of Lords demolishes some common myths about British politics, and also about how two chamber parliaments work.
This book, as well as focusing on the contemporary Lords, provides a historical and comparative context for British bicameralism, asks whether the Lords can be considered 'legitimate', and describes recent reform efforts and possible future reforms.
Information
Format: Hardback
Pages: 352 pages
Publisher: Oxford University Press
Publication Date: 11/07/2013
Category: Politics & government
ISBN: 9780199671564
Free Home Delivery
on all orders
Pick up orders
from local bookshops