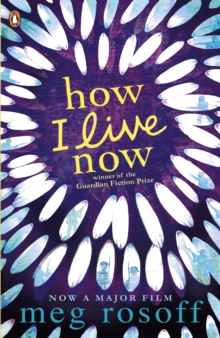 Description
How I Live Now is an original and poignant book by Meg RosoffHow I Live Now is the powerful and engaging story of Daisy, the precocious New Yorker and her English cousin Edmond, torn apart as war breaks out in London, from the multi award-winning Meg Rosoff.
How I Live Now has been adapted for the big screen by Kevin Macdonald, starring Saoirse Ronan as Daisy and releases in 2013.Fifteen-year-old Daisy thinks she knows all about love.
Her mother died giving birth to her, and now her dad has sent her away for the summer, to live in the English countryside with cousins she's never even met.There she'll discover what real love is: something violent, mysterious and wonderful.
There her world will be turned upside down and a perfect summer will explode into a million bewildering pieces.How will Daisy live then?'Fresh, honest, rude, funny.
I put it down with tears on my face' - Julie Myerson, Guardian 'Assured, powerful, engaging . . . you will want to read everything that Rosoff is capable of writing' - Observer 'An unforgettable adventure' - Sunday TimesBestselling author Meg Rosoff has received great critical acclaim since the publication of her first novel How I Live Now (winner of the Guardian Children's Fiction Prize).
Her other novels, Just in Case (winner of the 2007 Carnegie Medal), The Bride's Farewell and What I Was which was described by The Times as 'Samuel Beckett on ecstasy', are also available from Puffin.
Follow Meg on Twitter @megrosoff.Also by Meg Rosoff:How I Live Now; Just In Case; What I Was; The Bride's Farewell; There is No Dog
Information
Format: Paperback
Pages: 224 pages
Publisher: Penguin Books Ltd
Publication Date: 30/06/2005
Category: General
ISBN: 9780141318011
Other Formats
Paperback from £6.09
EPUB from £4.99
eAudiobook MP3 from £5.60
Free Home Delivery
on all orders
Pick up orders
from local bookshops
Reviews
Showing 1 - 5 of 14 reviews.
Previous | Next
Review by livrecache
16/06/2015
Okay. My daughter enjoyed it, and that was the market it was aimed at. I thought it was structurally weak, and fairly derivative.
Review by herschelian
16/06/2015
Daisy is a funky 15 yr old anorexic from NY, sent to spend summer with her English aunt and cousins. There she falls in love with Edmond one of her cousins and they embark on an intense sexual and emotional relationship. Daisy had arrived just before war with an unnamed aggressor begins and England is occupied and communications the outside world are cut off. Her aunt had gone to a Peace conference in Oslo and so the six children are left to their own devices in the countryside. Eventually they are all swept up in the chaos of war, and have to live on their wits to survive.The book won the Guardian Children's Fiction Prize 2004.
Review by sandpiper
16/06/2015
Meg arrives from the States to stay with her cousins and her aunt in England. They live an idyllic life on a farm in the countryside, with animals, a veg garden, a river in which to swim and catch fish. Aunt Penn leaves for a few days to present a lecture in Oslo, and the children have the farm to themselves. All sound a bit Enid Blyton so far? I get the feeling that Meg Rosoff perhaps intended the start of the book to seem so perfect, lost in an innocent age (even though it is set in the current day), because things soon change - for both good and bad. I just can't say a lot more without giving away the story, so I'm not going to go into any specifics. This story was beautiful, magical, terrible and heartbreaking.
Review by wyvernfriend
16/06/2015
It's an interesting story, although it does cover some issues that may not be considered quite right for early teenagers to be reading about. It has all the hallmarks of being an early novel written by someone but is still quite an interesting novel.Elizabeth is never called that, she's always called Daisy, she's got issues, food issues, parent issues, step-parent issues, step-parent-having-children issues, so she's sent to stay with her aunt and cousins in rural England for the summer. That summer changes her life. She falls in love with one of her cousins (and there's no angst about this, which there should be, even if this book has enough angst already) and someone invades England. I'm not sure if the author had quite worked out who was invading, or why, but it's mostly covert and no-one is sure who is the enemy. Daisy has to find the strength within herself to survive.It's interesting and it kept my attention but there were serious plot holes, which brings it down a few notches in my estimation.
Review by yourotherleft
16/06/2015
How I Live Now begins with the 15-year-old and obviously troubled Daisy arriving in England to spend the summer with her aunt and four cousins that she barely knows. Leaving life in New York where the weight of people's pity that her mother died in childbirth combined with life with her "evil" and now pregnant step-mother is a relief for Daisy whose desperation to be loved mixes all up with using self-starvation as a weapon against parents who don't seem to understand. Daisy finds solace at her Aunt Penn's isolated farmhouse where her odd but affectionate cousins wrap her up in their idyllic world where school consists of reading books and communication is totally possible even outside the limitation of speech. As the summer wears on, Daisy is sure that she's found a place she can belong in the Back of Beyond with her cousins, Osbert, the eldest, who feels some responsibility for the rest but can't be troubled to do much about it; Piper, the youngest, who eagerly sweeps Daisy into their lives with her disarming sweetness; and twins Isaac and Edmond, the former who seems to be able to talk to animals but is strikingly wordless among people and the latter who Daisy feels a bit more for than is generally acceptable in a cousinly relationship. Even as Daisy begins to live her truest life, it is crumbling around her as a war sneaks into the countryside, upending all of their lives forever. How I Live Now is beyond description. The summary covers only the barest bones of a story that is surprisingly unique and oddly magical. Daisy is a brilliant teen narrator, obviously damaged and cynical when it comes to her life thus far and also desperately vulnerable and in need of love in a way few around her seem to understand. Her narration races along in stream of consciousness style with capital letters used frequently for emphasis in a way that is decidedly teenage. It crackles with insight and captures her cousins from an outsider's inside point of view, picking up on their sort of spiritual wavelength even when she is yet unable to be a part of it. The beginning of the story paints her Aunt's run-down country farmhouse like a paradise and her cousins like Daisy's long lost soulmates, just as Daisy must see them. So, then, it is that much more jarring when a war begins in a decidedly non-traditional sense, slowly slashing paradise to pieces, separating the cousins, and subjecting them all to the harsh realities of an ultimately violent enemy Occupation. Even then, though, Daisy is finding herself and living a truer life than ever before as she discovers real love and learns that she would do anything to live for it.