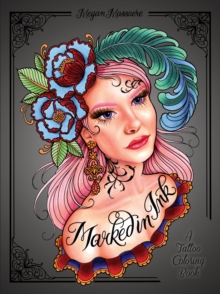 Marked in Ink : A Tattoo Coloring Book
Paperback / softback
Description
Megan Massacre brings her wildly popular art style to a colouring book.
Her artwork combines dark imagery with bold vibrant colour to create a unique, whimsical style.
Megan translates fan favourites such as sugar skulls, fairies, mandalas and tattoo lettering into an intricately detailed colouring book for tattoo and colouring-book- aficionados.
Feminine yet edgy, free from stereotypes and full of variation, Megan's tattoo-inspired artwork will take the adult colouring-book genre in a whole new direction.