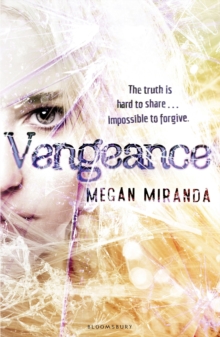 Description
When Decker drags his best friend Delaney's lifeless body out of the frozen lake, he makes a deal: Anyone but her.
Everyone but her. The lake releases her. It takes another . . . All their friends blame Delaney for Carson's death.
But Decker knows the truth: Delaney is drawn to those who are dying, and she would have tried to help Carson. Or so Decker believes until a body lies in front of him in a pool of water on his kitchen floor.
Until he sees in Delaney's eyes that she knew this would happen too - and she said nothing.
Until he realises it isn't the lake that is looking for revenge - Delaney is part of someone else's plan. This powerful and emotionally charged psychological thriller follows Megan Miranda's stunning debut Fracture.
Information
Format: Paperback
Pages: 352 pages
Publisher: Bloomsbury Publishing PLC
Publication Date: 13/02/2014
Category: Thrillers (Children's/YA)
ISBN: 9781408839584
Free Home Delivery
on all orders
Pick up orders
from local bookshops
Reviews
Showing 1 - 2 of 2 reviews.
Review by shelleyraec
16/06/2015
I wouldn't recommend reading Vengeance without first having read Fracture, Megan Miranda's debut novel. Fracture introduces the primary protagonists, Delaney Maxwell and Decker Phillips, and provides vital back story that this story relies on.Vengeance is told from Decker's point of view (whereas Fracture was told from Delaney's perspective. It has been a few months since Delaney was trapped beneath the frozen surface of Falcon Lake but the events of the past winter linger for them both and it seems neither the Lake, nor death, has finished with them yet.Miranda is able to revive the tense and sinister atmosphere of Fracture in Vengeance. From the first pages, death seems to stalk Decker but you are never entirely sure where the threat is coming from. As he struggles with feelings of guilt for Delaney's accident and still mourning Carson's untimely death, Decker can't shake a feeling of foreboding, of worse things still to come.I loved the ambiguous nature of the threat. You are never quite sure who, or what, is stalking Decker and Delaney until the final scenes of the novel and that uncertainty generates the suspense that kept me turning the pages. I did think the story was diluted in places though, the vengeance angle wasn't pushed quite hard enough to suit me, and Decker's emotional angst/relations woe is given too much attention at times.Though not perfect, I really enjoyed Vengeance. It works well as sequel, and I think Miranda was true to the established characterisation and story. Though some questions may still remain unanswered, I hope the author doesn't attempt a third book but instead starts fresh, I really want to see what else she can do.
Review by wyvernfriend
10/11/2015
A follow-up to Fracture, told from Decker's point of view. People are dying, it's like the town is cursed and Delaney is trying to come to terms with what she knows. Life has to go on, a new school year is starting and life has to go on, but as people keep dying, the question of what's going on has to be asked.It just didn't catch me like the first book, and the ending felt unsatisfying. I wanted more from this, a more that it didn't give.While technically it's paranormal, it doesn't read like there's really any paranormal in it, Delaney knowing about death is just a minor sideline to the rest of the story.