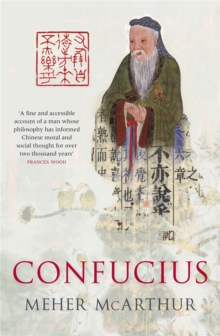 Description
Scholar, philosopher and political sage, Confucius lived at a turbulent time in his country's history, the so-called 'Spring and Autumn Period' of the sixth century BC, during which China was wracked by warfare between rival feudal states.
Against this backdrop he developed a system of social and political behaviour that he hoped could be used to create harmony and peace throughout the land.
The teachings of Confucius attracted a large number of pupils, but were largely ignored by the rulers of China's various kingdoms.
As a result, he did not see his philosophical teachings applied during his lifetime.
After his death, however, his teachings were kept alive by his followers, and within a few centuries, his philosophy (as outlined in The Analects, which record the words and acts of Confucius and his disciples) was adopted by China's rulers and became the foundation for Chinese government, education and social structure.
Beyond its profound influence on the culture and history of East Asia, Confucianism has also exerted a powerful fascination for western thinkers and philosophers. Meher McArthur's accessible and thoughtful biography not only traces the outline of her subject's life, but also examines why Confucius and his teachings are still relevant today.
Free Home Delivery
on all orders
Pick up orders
from local bookshops
Reviews
Showing 1 - 1 of 1 reviews.
Review by adamclaxton
16/06/2015
A very informative look at a well known figure from history (in name at least) who remains a somewhat mysterious and beguiling character even today. Living in China during a time of great political and social turmoil, Confucius tried to bring about a moral code that harked back to a more peaceful and noble time in Chinese history. His "Way" aimed to guide society; specifically the common man and those in positions of power, along a path of humility, goodness, benevolence including greater observance of ritual and an increased value of learning and education. Whilst it is seen that he struggled to get his philosophy accepted during his life his legacy was and continues to be revered long after his passing. Meher MacArthur expertly brings together the many vague, contradicting and sometimes questionable facts on the life of Confucius into a satisfying biography of the great philosopher and gentleman scholar.