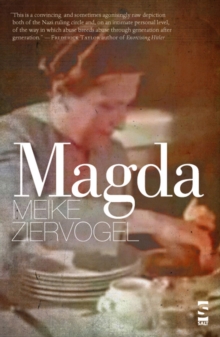 Description
Irish Times Books Of The Year 2013Observer Books Of The Year 2013Guardian Readers' Books Of The Year 2013Short Listed For Guardian's Not The Booker Prize 2013Unloved sons turn their aggression on the outside world.
Unloved daughters destroy the people they love, and then themselves.In this daring portrayal of Magda Goebbels - wife of Hitler's propaganda minister Joseph Goebbels - Meike Ziervogel unveils an historical tale of abusive mother and daughter relationships that reaches a terrifying conclusion in the last days of Nazi Germany.Magda is born at the beginning of the 20th century, the illegitimate child of a maidservant who feels burdened with a daughter she does not want.
The girl grows up to become an ambitious woman, desperate for love and recognition.
When Magda meets Joseph Goebbels, he appears to answer all her needs, and together they have six children.
Towards the end of the Second World War, Magda has become physically and emotionally sick.
As she takes her children into the Fuhrer's bunker, her eldest daughter Helga experiences an overwhelming sense of foreboding.
Information
Format: Paperback
Pages: 128 pages, No
Publisher: Salt Publishing
Publication Date: 01/04/2013
ISBN: 9781907773402
Free Home Delivery
on all orders
Pick up orders
from local bookshops
Reviews
Showing 1 - 1 of 1 reviews.
Review by teresa1953
16/06/2015
Magda Goebbels is a reviled character having killed all six of her children, before commiting suicide, in the infamous bunker during Adolph Hitler's final days. How could any woman commit such a despicable act?Meike Ziervogel has courageously portrayed Magda as a woman first and foremost..and a very damaged one at that. The illegitimate daughter of a servant girl, she was made to feel unwanted throughout her childhood. However, this made her more determined and very ambitious, craving the love and recognition denied to her for so long. Joseph Goebbels, Hitler's propaganda minister, was the answer to all Magda's prayers. In him she found a soul mate and relished the attention and notoriety being his wife brought her way. Like her mother before her, her relationship with her five daughters and one son was tenuous to say the least. Constantly unwell, her children barely saw her for days on end.The author has cleverly told Magda's story, spanning fact and fiction, in to eight short chapters. We learn of Magda's early life, her mother's somewhat spiteful take on her own daughter, and, achingly sad, are excerpts from the eldest child Helga's diary. She is just fourteen,on the brink of adulthood, and Ms Ziervogel has really understood the psyche of an unloved child writing to her only friend.Meike makes no excuses for Magda, but presents her story honestly and intelligently, combining historical fact with wise perception. Magda's "vision" for what would become of her children if they were to fall in to the hands of the "brutish" enemy seems deluded, but how easy it must have been to believe, shut away underground with no hope leftSomeone once told me that "hurt people hurt people" and this is never more evident than in this wonderful short novel. Magda and Helga will remain with me for some time.