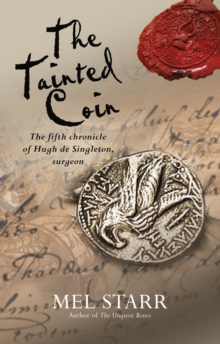 The Tainted Coin : The fifth Chronicle of Hugh de Singleton, surgeon
Paperback
Description
"Fans of medieval mysteries will revel in Starr's lively blending of intriguing suspense and telling historical detail." - Library Journal It is the autumn of 1367.
Master Hugh is enjoying the peaceful life of Bampton, when a badly beaten man is found under the porch of St. Andrew's Chapel. The dying man is a chapman -- a traveling merchant. Before he is buried in the chapel grounds an ancient, corroded coin is found in the man's mouth. Master Hugh's quest for the chapman's assailants, and his search for the origin of the coin, make steady progress - but there are men of wealth and power who wish to halt his search, and an old nemesis in league with them. Master Hugh, and his assistant, the groom Arthur, are determined to uncover the thieves and murderers, and the source of the chapman's coin.
They do, but not before they become involved with a kidnapped maiden, a tyrannical abbot, and a suffering monk ...
Information
Format: Paperback
Pages: 240 pages
Publisher: Lion Hudson Plc
Publication Date: 21/09/2012
Category: Historical mysteries
ISBN: 9780857212504
Free Home Delivery
on all orders
Pick up orders
from local bookshops
Reviews
Showing 1 - 5 of 5 reviews.
Review by VeraGodley
16/06/2015
The historical setting of The Tainted Coin is medieval England in the year 1367. This is a new period read for me and I found it very interesting. So often historical reads are romances and filled with the give and take of the male and female protagonists. However, in The Tainted Coin I discovered Master Hugh de Singleton, Surgeon and found him a character of many fine points that the author develops quite well.The story is written first-person with the voice of Singleton. He is the bailiff for the Lord's estate as well as a surgeon. Author Mel Starr is a historian by education and trade and has thoroughly research this period novel. Included in the front of the book are words and terms to help understand the terminology of the period. But you don't feel as though you are reading a history book. Frankly, you are riding from town to town, from village to village with Singleton and his trusty companion, Arthur, as they ride their horses who have definitely seen better days. It seems that they are constantly looking for lodging and food. Their food is most often maslin (bread made from mixed grains) and ale. They find villains and down-trodden folks. Sick and injured. You sense the justice as it is doled out during that period and which is based on laws hard to comprehend. You grasp the social order and the privilege of rank that exists.Singleton is trying to solve a murder that occured on his Lord's estate and in the process encounters various individuals with problems, and he being a compassionate person seeks to aid them with whatever skills or possessions he has at his disposal.I wish I had had the opportunity to read Mel Starr's other four books in this series, and perhaps I shall someday. You do not, however, need to read them to enjoy The Tained Coin as it is a good stand alone book. I found Starr's style different and refreshing. It was interesting to read this period book and I felt that I could trust Starr's interpretation of the customs of the time. DISCLOSURE: I received a complimentary copy of The Tainted Coin from Kregel Publications on behalf of Monarch Books and the author for the purpose of my honest review. I was under no obligation to provide favorable comments. Opinions expressed are solely my own.
Review by Sarah_Bailey
16/06/2015
I've had the pleasure of reading two other books in this series, Hugh de Singleton, A Trail of Ink and Unhallowed Ground and like the others I thoroughly enjoyed this one as well. I don't know if I enjoyed this one more because we've been studying the Middle Ages and the Plague in our history in our home school or just because I really enjoy the actual series – regardless this book is the next excellent installment for Mel Starr. Again, we meet Hugh who is recording his story of his continuing job as bailiff and surgeon and he is now a dad to a toddler. The character of Hugh has really evolved and developed as when I began the series Hugh was single with really no interest but his own – now he is faced with protecting not just his wife but his child and the reader can see and feel this struggle in this book as he carries out his job duties. The reader also gets a feel for the struggle Hugh has with the laws regarding villeins and the Lord's of the manors – his struggle is like all men and/or women – against what the world says is okay versus what God says is okay. I won't give away the story suffice to say Hugh's conscience is eased and all is right in Bampton once again – until the next installment. The every day happenings continue in this book as it's still being written by Hugh instead of about him and some of the food stuffs mentioned has me wanting to try to find a reproduction Middle Ages cookbook – although fish every Friday doesn't appeal to me, much like it didn't appeal to Hugh. I again enjoyed reading about the medical procedure in which Hugh helps to improve the condition of a monk's life by fixing his fistula regardless of the Abbott who thinks God gave it to him so he can learn a lesson. Hugh is a character that I think will continue to grow and learn and ultimately come into his own as he negates the stick path of following what God wants versus what the church or the King wants. I found some things very interesting such as the last rites that the monk wanted to give a character (won't say who or what or who) but he turns it down because apparently if given last rites, even if you survive one must walk barefoot, fast perpetually and cannot enjoy relations within the marriage for the rest of their lives – they are effectively dead. Also of note, Hugh questions the reading of the banns – which apparently are still read in churches in England today. I could probably go on and on about this book, but I won't because I want you to read it! Fall into Hugh's world and discover his Medieval world as he seeks to do the Lord's work within the law of the land and the church as well as trying new medical procedures, such as leaving wounds to the air instead of festering in blankets and wraps and while reading this work of fiction learning some great historical content as well! **Disclaimer: I was provided a copy of this book from Kregel Publications in exchange for my honest opinion, no other compensation was given.
Review by shopgirl152ny
16/06/2015
If you're looking for a mystery or like the medieval time period, look no further! It's 1367 and Master Hugh is both a surgeon and the bailiff for a lord, so when a man dies on the lord's land he determines it is murder and starts to investigate. When an ancient coin falls out of the man's mouth, Master Hugh suspects it is the key to his death. As he searches for clues, he encounters powerful men who wish to stop him. Add kidnapping and surgery; this book is never dull!It was interesting to see how a murder could be solved in a time period without our modern gadgets or even DNA. I especially liked learning about the different culture, including what they ate and how they lived. There's a handy glossary in the front of the book to explain some of the terms. There's a bit of dry humor at times that I enjoyed. A fascinating thing I learned was that surgeons were taught not to perform surgeries during certain times of the year because of the movement of planets and stars. They felt a surgery wouldn't be successful and even some of the church believed this! This is book five in the series about Master Hugh, but I wasn't confused at all when reading this first. It's worth checking out!I received this book free from Kregel in exchange for an honest review.
Review by aya.herron
16/06/2015
The fifth installment finds Hugh still holding down two vastly different jobs: bailiff and surgeon. As a new father, Hugh must learn to balance his concerns for his family's safety with his work responsibilities. So when a chapman is found beaten, Hugh is summoned to provide aid. Unfortunately, the chapman is mortally wounded. Before dying, the chapman mutters a simple, yet puzzling, phrase. Then as Hugh helps bury the man, an ancient coin falls out of the man's mouth.Written in first person, Hugh chronicles his personal observations and actions as he searches for the both the murderer and the origin of the strange, ancient coin. As Hugh and his brawny sidekick, Arthur, investigate the matter, the mystery becomes more complex. Adding to the challenge, Hugh's nemesis, Sir Simon Trillowe, returns with his minions. Thus, when his wife and child are attacked, Hugh is faced with a moral dilemma. Before he can find closure for the chapman's death, Hugh must struggle with his conscience, faith, and duty to do what is right.The Bottom Line: Starr's medieval series is one of my favorites, and I look forward to each installment for an entertaining read. I find the language and information about culture included in these books to be fascinating. I've enjoyed watching Hugh's character evolve. However, this installment includes less input from his wife Kate; I missed her wit and quick thinking.This is a fast-paced read with lots of action, twists, and turns. While descriptions of medical procedures are included in the text, this installment is not too graphic. Also, I have enjoyed reading the books in order; however, each book may be read as a stand-alone. I, for one, am hooked on the series and highly recommend it for fans of medieval mysteries, historical fiction, and Christian fiction. As with the previous books, this book includes a glossary of medieval words and a map of the local area.
Review by bgknighton
16/06/2015
Hugh finds a badly beaten man, saves his family. Good entry.