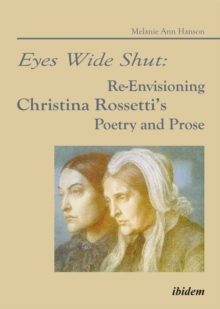 Eyes Wide Shut: Re-Envisioning Christina Rossetti's Poetry and Prose
Paperback / softback
Description
Christina Rossetti's poetry and prose, written in 19th-century England, deals with the human fixation on appearance.
Her belief in the Tractarian precepts of the Oxford Movement, primarily expostulated by John Keble and John Newman, transformed Rossetti's outlook on perception.
Her association with the Pre-Raphaelite Brotherhood also influenced her obsession with sight and insight.
The focus of Melanie Hanson's study is the re-envisionment of Christina Rossetti's poetry and prose from three theoretical perspectives: deconstructionist theory, feminist literary theory, and Marxist literary criticism.
The first part of her book explores Christina Rossetti's fascination with Plato's eye of the mind in The Allegory of the Cave.
Rossetti believed that the physical eyes must be shut so that the eye of the mind could be wide open, creating in-sight.
She connected the eye of the mind to her Tractarian religious beliefs.
In her writings, the 'eye of the mind also relates to Eastern religious philosophy.
The 'eye of the mind sees an alternate perception of reality. Rossetti was not only obsessed with the gaze and the object of the gaze in her writing, but she also re-fashioned John Milton's Eve from Paradise Lost into her own vision of Eve and the creation cycle in Rossetti's poetry and prose.
Part 2 asserts that the author, Melanie Hanson, believes Rossetti's re-envisionment of the figure of Eve in Rossetti's writing contributes to the emergence of feminist literary criticism in the 20th century.
Although Christina Rossetti was not a feminist, her poetry and prose have been examined by post-modern feminists concerning psychoanalytic and historic issues.
Rossetti's envisionment of the consumed consumer is the subject of part 3, in which Marxist literary theory is used to examine Rossetti's epic poem Goblin Market.
Previous literary criticism discussions concerning Rossetti's poetic and prose observations on the eye lack a concentrated examination of Rossetti's interest in Plato, especially Plato's eye of the mind, and Plato's influence on Rossetti.
Hanson's book addresses this ground-breaking area of study. Her book is aimed at Christina Rossetti scholars and English Victorian literature aficionados who wish to explore Rossetti's contribution to the literary canon from new angles in literary criticism.
Information
Format: Paperback / softback
Pages: 240 pages
Publisher: ibidem-Verlag, Jessica Haunschild u Christian Scho
Publication Date: 01/05/2012
Category: Literary studies: c 1800 to c 1900
ISBN: 9783838203652
Free Home Delivery
on all orders
Pick up orders
from local bookshops