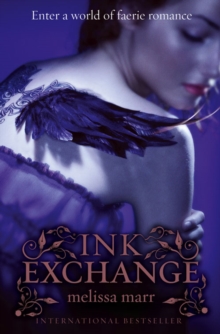 Description
Mortal affections and faery rivalries continue to collide in the town of Huntsdale, as New York Times bestselling author Melissa Marr takes urban fantasy to new heights.After suffering a terrible trauma at the hands of her brother's dealer friends, Leslie becomes obsessed with the idea of getting a tattoo - it's the one thing that will allow her to reclaim her body, renew her self-confidence. And when Rabbit, her local tattoo artist, shows her a secret book of his own designs, she finds one of them irresistible.Soon, her back is adorned with a pair of mysterious eyes, framed by black wings.
Leslie feels good - more than good. Nothing bad can touch her. But what she doesn't know is that her new tattoo binds her tightly to the faery whose symbol she chose: Irial, the exquisitely dangerous king of the Dark Court...
Information
Format: Paperback
Pages: 336 pages
Publisher: HarperCollins Publishers
Publication Date: 01/03/2009
Category: Fantasy
ISBN: 9780007267170
Other Formats
eAudiobook MP3 from £19.49
Free Home Delivery
on all orders
Pick up orders
from local bookshops
Reviews
Showing 1 - 1 of 1 reviews.
Review by Rhinoa
16/06/2015
The second book in the Wicked Lovely series by Melissa Marr introduces a new set of characters into this urban faery tale. Leslie's life is falling apart around her. Her mother has left her living with her father who seems to care about nothing and her brother who has become a drug dealer and user. His moods are all over the place and he isn't above using his sister to pay for his next fix by "donating" her to his friends. She used to be able to tell her best friend Aisling everything, but lately she is changed and their bond is strained. Part of the different are the two guys Aisling is always with, Seth and Keenan. It has been made very clear that Keenan's uncle Niall is off limits to her, but no one will tell her why. Leslie yearns for a tattoo. Something symbolic to cling to that will help her believe she can turn her life around. She longs to move away to college and has been saving up and working hard on her grades so she can escape. She finally chooses a tattoo, one with dark feathery wings and piercing eyes in the middle. Little does she know though that it will bring more than just a symbollic change as it is linked to a very powerful dark fey.I am so in love with this series right now and couldn't get enough of this book. It could stand alone from the first one but I would recommend trying to read them in order. I loved the characters and I love dark tales with the fae in them. You are really drawn into the world of the dark fey who are misunderstood and neither as cruel or as kind as some believe. I really hope to see more of these characters, especially Niall in future books. Definitely one for anyone who likes Holly Black and her dark faery tales.