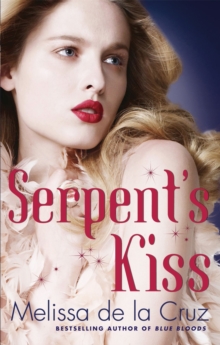 Serpent's Kiss : Number 2 in series
Paperback
Description
*The second book in the series that inspired the major Netflix TV drama Witches of East End* 'Smart, stylish and just a bit wicked' Deborah Harkness, bestselling author of A Discovery of WitchesEverything ought to be perfect in the magical Long Island town of North Hampton now that Freya Beauchamp's twin brother, Freddie, is back.
But their mother, Joanna, has always favoured son Freddie, and his assertion-that Freya's fiance Killian Gardiner (Baldur) was the one who set up his downfall-threatens to fracture the delicate family dynamics as the Beauchamps are forced to take sides against each other.
Freddie spends his days either on the couch sleeping, or sleeping around.
When their father Norman helps him find a job on a fishing vessel, Freddie's uncontrollable magic causes mayhem aboard the ship and lands him in even more hot water.
Level-headed sister Ingrid attempts to maintain the peace between the warring twins, but she has problems of her own: her human boyfriend, detective Matt Noble, becomes entangled in a complicated investigation, and when the magical creatures at the heart of it come to Ingrid for help, she has to choose between helping her kind and staying loyal to her love.
Freya and Killian plan their wedding only to discover an ancient rivalry that could keep them apart for ever.
Things come to a head when the culprit behind Freddie's imprisonment is finally revealed, but it may be too late to staunch the poison that's been released in the family and the town.
Information
Format: Paperback
Pages: 384 pages
Publisher: Little, Brown Book Group
Publication Date: 01/06/2012
Category: Fantasy
ISBN: 9780751547306
Free Home Delivery
on all orders
Pick up orders
from local bookshops
Reviews
Showing 1 - 4 of 4 reviews.
Review by sumik
16/06/2015
It was enjoyable but I didn't find it as much fun as the first book.
Review by Steph1203
16/06/2015
I knew I shouldn't have started this since I don't have Winds of Salem yet. Hopefully I can get my hands on it soon, this book was just as good as the first and I'll probably need to do a re read before the show starts in October.
Review by Y2Ash
16/06/2015
Dear Lord, why?<br/><br/>Why do I do this to myself?<br/><br/>Serpent's Kiss was very simplistic and, most importantly, boring. Oh gosh, so very boring! There was no drama and no tension! How does that even happened? No wonder the show was a little slow on the uptake, it had very scanty source material.<br/><br/>The gist is this: Freya's twin brother Fryr, now called Freddie, has escaped from Limbo after being imprisoned with Loki for blowing up the Rainbow Bridge (ha! the Rainbow bridge, that nevere ceases to crack me up). Anyway, Freddie is convinced that Freya's love, Killian, is involved and framed him. He wants Freya to investigate who does the worst job investigating. She was horrible. Every investiagation ended up with her having sex with Killian. Jeez.<br/><br/>Ingrid is in love with Det. Matt Noble despite treating horribly in the first book and only realizing her feelings when he was involved with someone else. Joanna is quite possibly the worst of the three because she is the most boring and apparently the most susceptible to being bamboozled. What? Harold isn't whom he seems to be? Duh, stupid. That much was obvious.<br/><br/>The apple doesn't far from the tree because Freddie was the same way. Whaat? You mean signing a contract in blood wasn't on the level and completely trustworthy? Duh, stupid. That much, once again, was obvious.<br/><br/>I think what really frustrates me about this series is that it is full of so much potential. Infusing Norse mythology with modern day witchcraft! In a much more capable writer, the Beauchamp Family series could have been a formidable one. I am still going to read the third one. Maybe it'll get better. Freya is stuck in the 1600s. An action, the cliffhanger, that Melissa de la Cruz, felt that should be told from Ingrid than shown. Good job on deflating the action.
Review by sunset_x_cocktail
16/06/2015
I do thoroughly enjoy this series. I love how there's lots of different plot lines for each of the Beauchamp women and the brother and how they all come together. It's an easy to read style. Light and fun. And I do love the way the magic in this world world works and the use of NOrse mythology and how this one managed to include a Salem witch trials story line as well. Left with a great cliff hanger at the end I can't wait for the next one
Also in the Witches of the East series | View all