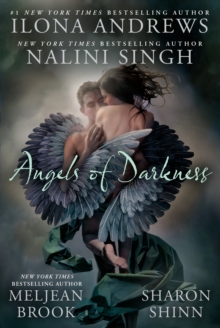 Angels Of Darkness
Paperback
Information
Format: Paperback
Pages: 410 pages
Publisher: Penguin Putnam Inc
Publication Date: 04/10/2011
Category: Anthologies (non-poetry)
ISBN: 9780425243121
Free Home Delivery
on all orders
Pick up orders
from local bookshops
Reviews
Showing 1 - 5 of 11 reviews.
Previous | Next
Review by pollywannabook
16/06/2015
Review courtesy of All Things Urban FantasyAngel's Wolf by Nalini Singh (Guild Hunter #4.5)Guild Hunter fans will recognize the hero from this story. Noel was the vampire in ARCHANGEL'S KISS who was brutally beaten to the point where virtually all the bones in his body were crushed. After an agonizing recovery, he is sent to Louisiana and the smoldering but heartless angel Nimra. A failed attempt on her life has cast the loyalty of all Nimra's court in question, and Noel is sent to discover the traitor, while under the guise of Nimra's latest toy. Essentially, Angel's Wolf is a mystery. Noel investigates the court, comparing stories, and interviewing suspects during the day while growing closer, emotionally and physically, to Nimra at night. The chemistry was lacking between these two for me and even though the writing and mythology is as good as ever, I was a bit bored by the story. Noel was by far the more interesting character, but it felt like he warmed up to Nimra much too fast—even for a novella—than he should have given his traumatic past. The Guild Hunter series is a great one and I'm still a big fan, but this was probably the weakest installment I've read.Sexual Content: A scene of sensuality. References to sex. Rating: 2/5Alphas: Origins by Ilona Andrews (Alphas series)I would never have guessed this was an Ilona Andrews story. Alphas: Origins has a very different feel and writing style from either the Kate Daniels or Edge series. It feels a little less polished, less sharp, than those series. The story involves a young mother and her daughter accidently winding up captors to four very alpha males ensnared in a millennia old war between beings who seek to destroy humanity. To ensure her daughter's safety, Karina agrees to become the slave of Lucas, a shapeshifting warrior who needs her blood to survive. The writing wasn't as slick as I'm used to from Ilona Andrews, and initially, I was hung up on the writing style differences, but the storyline and uber alpha male characters, which reminded me of old school Linda Howard romances, quickly picked up the slack. The mythology was outlandish but fun, and the character of Lucas suitably tortured and aggressive. I'll be looking forward to more Alpha books in the future.Sexual Content: Reference to sex and rape. Kissing. Rating: 3/5Nocturne by Sharon Shinn (Samaria series)This story occurs chronologically about 70 years after ARCHANGEL (Samaria #1). A woman has run from a murky past and taken a position at an exclusive boarding school when she comes across an injured angel hiding on the grounds. She begins visiting him and helping him learn to fly again. The writing is understated and quite good. The romantic relationship is not immediately evident and both the woman and the angel have a lot of personal baggage to deal with before looking at each other. This was my first Sharon Shinn story, but it won't be my last. Her writing feels more like magical realism than the other stories in this anthology. The pacing isn't aggressive, but the story and characters gently wooed me until I was completely invested in Nocturne. This isn't a flashy story, but it is a memorable one.Sexual Content: References to rape. A non graphic sex scene. Rating: 4/5Ascension by Meljean Brook (The Guardians #7.5)I'm not as familiar with The Guardian series as I'd like having only read a few other novellas previously, but Meljean's engaging and romantic style has won me over in everything else I've read from her. I'm not knocking the mythology here, but newbies to the series might feel a bit lost if this is their first Guardian story. The story reunites two Guardian lovers whose romance ended badly more than a century ago. They team up to track down a demon responsible for the deaths of several high school students. Mostly, the romance deals with overcoming the way this couple broke up originally. My big problem stemmed from the fact that Radha initially pursued Marc even knowing that he'd taken a vow of celibacy and experienced severe guilt over his attraction to her. It struck me as callous on her part and then selfish when she got mad watching as he was overcome by guilt after they had sex. I never believed that she cared about him beyond the sex. In my mind, if she truly loved him, she would have waited for him to sort out his beliefs before seducing him. Sexual Content: A scene of sensuality. Rating: 2/5
Review by cissa
16/06/2015
This book is 4 novellas. I've given it a 3-star rating because 3 out of the 4 were- in my opinion- pretty boring.I did really LOVE Sharon Shinn's contribution- it was smart and sexy and enticing. it gets a 5-star.I cannot say the same for the others. I am not a big fan of the ALPHA MALE!!!!, so the first 2 did not appeal, and i found them pretty boring. The 4th just didn't seem to work well plot-wise, to someone who is not familiar with what seemed to be a known world.
Review by SunnySD
16/06/2015
Four tales of angels and their lovers...In <i>Angel's Wolf</i> by Naomi Singh, a broken vampire finds new purpose and new perspective as he hunts an attempted murderer in the court of the ruler of Louisiana.Kidnapped and forced into servitude as a blood slave in a war that spans centuries and alternate splinters of Earth, Karina Tucker finds her destiny - and her man - in Ilona Andrews <i>Alphas: Origins</i>. No sign of Kate Daniel's Atlanta or the Edge here, but it doesn't disappoint.Sharon Shinn's <i>Nocturne</i> brings a troublemaker on the run and a broken, blinded angel together. Told in her subtle, inimitable style, this one's worth the price of admission. And finally, Meljean Brooks' <i>Ascension</i> takes readers to small town Illinois to reunite two guardian angels suffering from star-crossed love in the course of a search for a demon. Love the end on this one.
Review by Capnrandm
16/06/2015
Loved this anthology, though hate that it just amped up my anticipation for more <i>Guild Hunters</i> and an <i>Alphas</i> book. I had read and re-read the Alphas snippets on Andrews blog before they were taken down, which made it all the more fascinating to see them stitched into a short story (they made Lucas do way to much 'splainin', but I loved it anyway). Shinn's short story reminded me why I love her books, and Brook's addition reminded me that I really need to read <i>The Guardians</i> series.
Review by tivonut
16/06/2015
Angel's Wolf by Nalini Singh <br/>5 stars<br/>I have read the Guild Hunter series so know the world well. I liked the story and the characters but the relationship was a little stilted by power issues. Still the story was pretty well fleshed out for a novella. Even the characters and their problems were well drawn. It was a great addition to the series.<br/><br/>Alpha: Origins by Ilona Andrews <br/>4 1/2 stars<br/>This was a new world for me also. At first I thought it might be part of the Edge series but very quickly discovered it was something else. It was definitely something else, something between a science fiction and fantasy story but you don't get to that until well into the story. Until the explanation, you just think of grotesque shape shifters and indentured servitude. It was definitely grittier than the other novellas<br/><br/>Nocture by Sharon Shinn <br/>4 1/2 stars<br/>This one starts really slowly. She is a cook at a school and he is a blinded angel who lives secretly in the mansion apart from the school. I really like the play between the two characters when it finally starts. The big problem is you never get to understand the world, who are the angels and how do they interact with the world. It sounds like they have a short life span compared to other angel novels but you never even learn that. Even not having an idea of the world and how the species interact, I still liked the relationship between the two characters probably the best of all the novellas.<br/><br/>Ascension by Meljean Brooks<br/>4 1/2 stars<br/>I liked the chemistry between the two characters. Not knowing the world, I was a little lost but seemed to catch up. I think I would like to try this series out after reading it. The story was great for a short and well explained. The relationship is well fleshed out and since they were coming from a past relationship, pretty believable.<br/><br/>As an anthology of novellas goes, this is one of the best with all the stories being good. Ascension, Angel's Wolf, and Nocturne, being more romance and Alpha: Origins being more a UF something else.