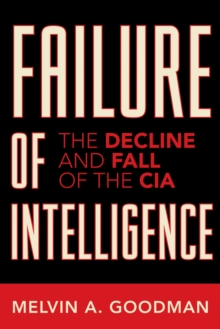 Failure of Intelligence : The Decline and Fall of the CIA
Hardback
Description
The time for serious soul-searching regarding the role of the Central Intelligence Agency and the intelligence community in general is long overdue.
The recent intelligence failures regarding the unanticipated collapse of the Soviet Union, the terrorist attacks of September 11, 2001, and the run-up to the Iraq war demonstrate a CIA and a $50 billion intelligence enterprise that cannot provide strategic warning to policymakers and, even worse, is capable of falsifying intelligence to suit political purposes.
It will not be possible to reform the enterprise until we understand and debate the nexus between intelligence and policy, the important role of intelligence, and the need for an intelligence agency that is not beholden to political interests.
The recent appointment of three general officers to the three most important positions in the intelligence community points to the militarization of overall national security policy, which must be reversed.
The military domination of the intelligence cycle makes it more difficult to rebuild strategic intelligence and to provide a check on the Pentagon's influence over foreign policy and the use of force.
Failure of Intelligence is designed to inform such a debate and suggest a reform agenda. In this timely and important book, the author offers a provocative mingling of historical description with contemporary political analysis and reform prescription that challenges the conventional wisdom on clandestine collection.
The book ultimately and persuasively asserts that the failure to have diplomatic relations has led to the inability to collect intelligence.
Information
Format:Hardback
Pages:400 pages
Publisher:Rowman & Littlefield
Publication Date:28/03/2008
Category:
ISBN:9780742551107
Also by Melvin A. Goodman