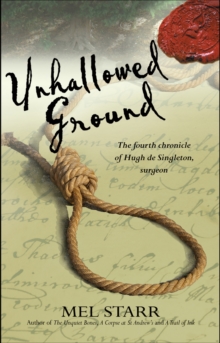 Unhallowed Ground : The Fourth Chronicle of Hugh de Singleton, Surgeon
Paperback
Description
Thomas atte Bridge, a man no one likes, is found hanging from a tree near Cow-leys Corner. All assume he has taken his own life, but Master Hugh and Kate find evidence that this may not be so.
Many of the town had been harmed by Thomas, and Hugh is not eager to send one of them to the gallows. Then he discovers that the priest John Kellet, atte Bridge's partner in crime in A CORPSE AT ST.
ANDREW'S CHAPEL, was covertly in Bampton at the time atte Bridge died.
Master Hugh is convinced that Kellet has murdered atte Bridge - one rogue slaughtering another. He sets out for Exeter, where Kellet now works. But there he discovers that the priest is an emaciated skeleton of a man, who mourns the folly of his past life. Hugh must return to Bampton and discover which of his friends has murdered his enemy ...
Information
Format: Paperback
Pages: 240 pages
Publisher: Lion Hudson Plc
Publication Date: 21/10/2011
Category: Crime & mystery
ISBN: 9780857210586
Free Home Delivery
on all orders
Pick up orders
from local bookshops
Reviews
Showing 1 - 5 of 16 reviews.
Previous | Next
Review by tiinaj1
16/06/2015
I found this book rather hard to read. What I did like about the book was the depth of the history, the research and the author's understanding of the period written about in the book. I also really liked the characters of Hugh & Kate who are both very strong, suited to each other and even though they (especially Hugh) have to make tough decisions when it comes to people they know - they do it.Unhallowed Ground refers to the church's stance that someone who either has committed suicide or is an executed criminal being refused burial in the church graveyard. The book opens with the scene of atte Bridge hanging from a noose outside the burial area for said suicide victims and criminals. The only sign that something may have happened was a little mud on the back of his shoes and a very short trail that looks like someone may have been drug. Everyone hated atte Bridge and so no one seems to inclined to consider that foul play may have ocurred - even our hero Huge has a hard time making the decision to do what's right.I'm not really going to say much else about the book. I personally had some trouble reading this book. Unfortunately it wasn't for me. It's very well written, thoroughly researched and if you like regency or period pieces along with a good mystery you'll more than likely like it.
Review by lcjohnson1988
16/06/2015
A man who commits suicide or was he murdered? Buried where? Why? The year is 1360 something in an unfamiliar land and unique sounding words describe people, positions, and responsibilities. Never before has such a novel attracted my attention…until now.Mel Starr has written "chronicles" of a character named Hugh de Singleton. This character has more than one job in his village. What the name of the village is, I can't say. What is this character's occupation? I can't spoil the book and reveal what he does.He is caught in a web of intriguing mystery that twists many times almost like a rope. Maybe that is why there is a picture of that on the cover. It sure grabs one's attention doesn't it? In the language of the setting, it seems like one is transported to a time where words such as almoner, farthing, bailiff and Cow-ley were ordinary words.When I first looked at the book and read the words and definitions, I was thinking I bit off more than I could chew. Would I understand the story or not? Would I be able to follow the characters while trying to figure out the plot? After the first few pages of chapter 1, I was hooked. I had to know how this medieval novel ended. I kept reading as I was carried away to Bampton, following the actions of priests, sires, bishops, and carpenters. There are many more fascinating people in this story who travel to other lands to seek answers.Sometimes when one reads a novel the characters seem so unreal; however, Mel Starr has done a superb job of helping his readers "feel" the human part of mankind in the story. Never before have I read a book where the setting has taken place in medieval times. Prior to Unhallowed Ground, I would have just looked past the book to genres I am more familiar and comfortable with reading.I cannot recommend the Chronicles of Hugh de Singleton enough. If Mel Starr wrote his past and future novels with the same brilliance as he did this one, he has found a loyal fan indeed! Most novels are based on some known, unknown or little before known fact in history; Mel Starr's writings are no different. There are other books in this series of chronicles, though each one stands alone, and are titled: The Unquiet Bones, a Corpse at St. Andrews Chapel; A Trail of Ink and then the forthcoming book, The Tainted Coin. These are stories you will surely read more than once, maybe even getting them for family members, friends or coworkers who love a good mystery. I don't want to spoil the suspense felt as the book is read so I won't let the preverbal "cat out of the bag" by saying more. Get the book, curl up, turn off the noise, and get lost for a while in Unhallowed Ground. You will never regret it!Note: I received a complimentary copy as a blog tour participant forKregel Publications.
Review by Sarah_Bailey
16/06/2015
I had the privilege of having read Mel Starr's A Trail of Ink and as much as I enjoyed that one I'd have to say I've enjoyed Unhallowed Ground just as much or maybe more. This is the fourth chronicle of a surgeon by the name of Hugh de Singleton who is living and working in the 1300's and as one will start realizing as they read, you will be taken fully back into that time with the language as well as how operations are performed – I found the performance of the couching surgery for cataracts quite interesting. The author has provided a glossary at the beginning so that unfamiliar terms can be understood at a glance but it's not really hard to figure out what certain terms mean, although figuring out the holidays celebrated then does take some calculation.This is written by de Singleton, it's his journal of his daily life as he goes about his life being a bailiff, surgeon, newly married and soon-to-be father. This book isn't being written about him but rather by him so if you don't want to read a book that is detailing events by the main character then you may want to pass this up. Yes we are told what he has for breakfast several times as well as other dining details, but I found it to be the mundane parts of the book that had me more relating to the characters.Some parts really struck me, such as how Hugh de Singleton struggles with not believing everything the Church teaches or the current medical ideas of the day, such as back in the day Galen (I had to google this man) taught that a woman who was raped couldn't become pregnant during said assault unless she was a willing participant – this mind set occurs in one of de Singleton's cases that must be dealt with while he is investigating what most believe is a suicide when he believes otherwise.The historical accounts are what draws me in, since I enjoy history this book really intrigued me as I read about certain beliefs, including those of the Church, that some physicians of the day were questioning but couldn't say much out loud for fear of reprisals. Hugh de Singleton mentions a few times how he fears that something he writes could be found by a Priest or Bishop but questions whether they'd concern themselves with him. I almost forgot I was reading a book by a real, living author because I got so wrapped up in Hugh's life in this book that he became almost real and it felt like I was truly reading his account. A book to be truly enjoyed and savored.**I was provided a copy of this book from Kregel Publications in exchange for my honest opinion, no other compensation was given.
Review by kittycrochettwo
16/06/2015
This is the fourth installment of the Hugh de Singleton series and Hugh and Kate have been married for about three months when Thomas atte Bridge is found hanging from a tree. While the coroner wants to call it a suicide, the evidence points to foul play. Even though atte Bridge has had run ins with most of the townsfolk and is disliked by all Hugh is determined to figure out who the murderer is.This book takes place in 1366 in England, and it's easy to see the author does an amazing job of researching the time period. Not only am I intrigued by the suspense and mystery of the story but I also enjoy reading about the medical procedures that took place during that time period, as well as medieval life in general. The food in particular that Hugh ate sounded quite different. I found the glossary included in the front of the book quite useful in understanding what was being said. I also enjoy the relationship between Hugh and Kate and look forward to reading more about these two characters.This book is the fourth in the series and while the author provides a bit of background about the characters ,I recommend reading the series in order to get the in depth background on the reoccurring characters. rating 4/5A complimentary copy of this book was provided by the publisher in exchange for an honest review.
Review by nlaclaire
16/06/2015
In Mel Starr's fourth tale of Hugh de Singleton, medieval surgeon, Unhallowed Ground, we find our protagonist investigating the murder of one Thomas atte Bridge after this unlikable fellow is found hanging from a tree. While Master Hugh would like to believe the popular opinion that the victim took his own life, his finding of evidence to the contrary requires him to investigate his friends and neighbors to determine who took the life of their common enemy.I enjoyed this book immensely. The story, which is written in the first person, pulled me in and helped me to understand the culture through the eyes of one of its inhabitants. A thorough glossary is included in the front of the book for assistance in understanding some of the more archaic terms that are used throughout the book. That is to say, the book is not only enjoyable but also educational. The story is also aided by a map in the front of the book that shows where locations in the book are in relation to each other.One of the things that I enjoyed about the book was seeing the author's own modern-day thoughts expressed through the Master Hugh. Numerous times in the book the narrator explains a religious or other practice or belief and then offers his disagreement with the practice or belief. It is fascinating to see some aspects of the culture of 1366 and these comments helped to remind me that it is unrealistic to believe that the entire population agreed with all of what we would now consider primitive ideas.Among other things, the book shows that Christ can change our hearts and that we must not assume that this fact applies only to ourselves. Master Hugh learns this lesson when he takes a long journey to find the man he is certain committed the murder only to find someone else entirely.I was afraid that a book about a medieval surgeon would include descriptions of medical practices that I would rather not know about (or be reminded of), but this was not the case. While it did describe some medical procedures, I found the descriptions non-nightmare-inducing.This is an excellent book and I encourage you to read it if you like mysteries and/or historical fiction.Disclosure of Material Connection: I received this book free from Kregel Publications as part of a blog tour. I was not required to write a positive review. The opinions I have expressed are my own. I am disclosing this in accordance with the Federal Trade Commission's 16 CFR, Part 255: "Guides Concerning the Use of Endorsements and Testimonials in Advertising."