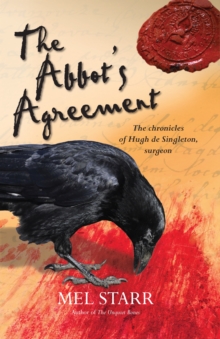 The Abbot's Agreement
Paperback
Description
"My life would have been more tranquil had I not seen the birds.
Whatever it was they had found lay in the shadow of the oak, so I was nearly upon the thing before I recognized what they were feasting upon.
The corpse wore black." Master Hugh is making his way towards Oxford when he discovers the young Benedictine - a fresh body, barefoot. The nearby abbey's novice master confirms the boy's identity: John, one of three novices.
He had gone missing four days previously, and his corpse is fresh.
There has been plague in the area, but this was not the cause of death: the lad has been stabbed.
To Hugh's sinking heart, the abbot commissions him to investigate.
Information
Format: Paperback
Pages: 256 pages, Map in prelims
Publisher: Lion Hudson Plc
Publication Date: 22/08/2014
Category: Historical mysteries
ISBN: 9781782641094
Free Home Delivery
on all orders
Pick up orders
from local bookshops
Reviews
Showing 1 - 5 of 10 reviews.
Previous | Next
Review by kara.shamy
16/06/2015
This was my first experience reading author Mel Starr's historical mystery series <b>The Chronicles of Hugh de Singleton, Series</b>, and regrettably I found <i>The Abbot's Agreement</i> to be a novel of decidedly middling quality. If you need a fix from this genre, this book should prove serviceable, but in my view it lacks any particular significant strengths to recommend it above other newly released titles in a diverse field crowded with talent.That said, I noticed two qualities that may draw certain readers to this particular read:(1) For particular devotees of historical fiction as genre fiction, who delight in the various and sometimes minute historical details some writers utilize in framing their tales, <i>The Abbot's Agreement</i> is packed with information that isn't buried in the text but rather is given primary billing alongside the plot in Starr's plain prose.(2) Readers turned off by flowery prose and literary flourishes will appreciate Starr's unpretentious style. The story is told in the first-person with active voice. The protagonist and narrator focuses on facts, which he relates is short, unerringly clear sentences. Despite some differences from the modern vernacular in the language used, this is an easy read that doesn't make you work too hard to enjoy the story being told.Thanks for taking the time to read my opinion; I hope some of my observations can be helpful to other readers. Please be advised I received a free copy of the book through the LibraryThing Early Reviewers program in exchange for providing this honest review.
Review by mitchma
16/06/2015
Another installment with our Everyman hero Hugh de Singleton. Hugh is journeying to Oxford to purchase his own copy of the Bible; however, he and traveling companion Arthur discover the bird-ravaged body of a novice from the local abbey. Abbot Thurstan entreats Hugh to forego his journey to Oxford and investigate the murder in return for his own monk-produced copy of the Bible. When Hugh accepts, his troubles are just beginning. What circumstances caused the murder of the arrogant novice? Was it romantic intrigue or political intrigue? Will Hugh be able to complete his investigation, or will he be held in prison or worse for heresy?
Review by michigantrumpet
27/08/2015
A chilly Autumn 1368 in Bampton, England finds surgeon and bailiff, Hugh de Singleton, happily contemplating his possible acquisition of a Bible, soon to expand his library to six(!) books. Sadly, his journey to an Oxford bookseller is soon disrupted by the foul discovery of the corpse of a young man. It takes little to determine the unfortunate young man had been a novice at a nearby Abbey. What remains -- at Abbot Thurstan's request -- is to discovery the identity of the loathesome murderer. Does evil lurk within the Abbey .... Or without? A fast moving mystery, replete with ample Medieval detail and vocabulary. There is a handy glossary for those unfamiliar with terms such as 'reredorter' and 'pannaging.' This is the seventh in the Chronicles of Hugh de Singleton, but do not be put off if this is your first introduction to the series. I haven't read the other, it had no trouble picking up with the action. An enjoyable read.
Review by readafew
16/06/2015
I just received the first book The Unquiet Bones a couple weeks before this one to read for review. So I've read the 1st and 7th book and I have to say this looks to be a very good series. I can't wait to read the other 5 books!Hugh is on his way to Oxford to buy a Bible when he spots crows on the edge of a field. He discovers it's a novice from the nearby monastery. The Abbot persuades Hugh to find the culprit. The Abbot offers to have a Bible copied for him as payment. It is a hefty fee and so Hugh accepts. He does have second thoughts when he is accused of being a heretic and was arrested.Hugh travels the countryside trying to find the murderer and follows a few false trails. Great book can't wait to read the rest of the series.
Review by kaulsu
16/06/2015
It wasn't the best or most novel fiction (really stretching to get in that pun), but I will probably read another in the Hugh de Singleton series. The author, Mel Starr, is a retired history professor. I lend credence, therefore, to the vocabulary he presents and to the life and times he sets his characters alight in.Most of his characters were flat and one-dimensional. But the two on-going characters (Hugh and Arthur) were well rounded. I'm sure each volume in the series will add traits until they become my friends.