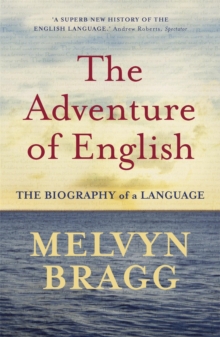 The Adventure of English
Paperback
Description
English is the collective work of millions of people throughout the ages.
It is democratic, ever-changing and ingenious in its assimilation of other cultures.
English runs through the heart of world finance, medicine and the Internet, and it is understood by around two thousand million people across the world.
Yet it was very nearly wiped out in its early years.In this book Melvyn Bragg shows us the remarkable story of the English language; from its beginnings as a minor guttural Germanic dialect to its position today as a truly established global language.
THE ADVENTURE OF ENGLISH is not only an enthralling story of power, religion and trade, but also the story of people, and how their day-to-day lives shaped and continue to change the extraordinary language that is English.
Information
Format: Paperback
Pages: 368 pages, 2 x 8pp b/w & colour photos
Publisher: Hodder & Stoughton General Division
Publication Date: 21/08/2004
Category: Historical & comparative linguistics
ISBN: 9780340829936
Other Formats
CD-Audio from £13.79
Paperback from £7.95
EPUB from £7.49
Free Home Delivery
on all orders
Pick up orders
from local bookshops
Reviews
Showing 1 - 5 of 5 reviews.
Review by camelot2302
16/06/2015
Billions of people, including myself, speak English every day but we never really think about where the language comes from. What influenced it? What changes did it go through? What challenges did English face throughout the ages? Who were its friends and its enemies? Melvyn Bragg covers all these areas and a whole lot more.Bragg tells us how English is mainly made up of French, Latin, Dutch (Frisian) and even some Arabic. We begin with the years leading up to 1066AD, with the Vikings, the Celts and other foreign invaders who attempted to impose their language upon the lands which are now the British Isles. We begin to see the first signs of English breaking through, despite the iron grip which Latin & French seems to have in everyday life. Latin is dominant in the Church and with educated intellectuals, while French controls the Monarchy and everyday government affairs. Then we start to see what would become "Old English" and throughout the centuries, a variety of influences would shape English into what it is today, thanks to contributions from stalwarts such as Shakespeare & Chaucer.English then goes over the water into the "New World", the Pilgrims landing in America with their strict religious views and their determination to make English the dominant language in America, despite their being other nationalities in America - again the French, the Dutch, the Portugese even. But eventually English wins the day and takes its rightful place in the world.After reading this book, you will develop a new appreciation for the English language and the battles it had to go through to get to where it is today. Complete with illustrations, this book is probably the best book available on the history of the English language. Easy to read, a joy to read, and a fountain of information and knowledge. HIGHLY RECOMMENDED!
Review by soylentgreen23
16/06/2015
Even though I teach English as a foreign language, I don't know a great amount about my own language - how old it is, from where it sprang, how it has evolved. This book goes a long way to remedying my lack of knowledge.For instance, I had always imagined English to be a language most heavily informed by Latin, but really it is French that gave us the majority of our loan words, and the Danes our grammar. Latin was only poached a thousand years after the Romans left, during an enlightened, classical period when everything Latin suddenly became fresh and interesting.Bragg's writing is clear and intellectual. He includes lists of new words, and lays out the evolution of the English language very neatly. I shall certainly be keeping it handy as a reference for teaching.
Review by jaygheiser
16/06/2015
I'm a fiend for facts about language, and I normally enjoy books like this. Although I did learn many interesting things about the nature and history of our mongrel language, I found the book less than totally engaging. I spent about a month picking away at it, and finally finished it during a 3am battle with insomnia. I didn't dog ear a single page, and I never felt the need to pick up a highlighter, which means nothing in here really captured my imagination.
Review by the.ken.petersen
16/06/2015
This man makes me sick! Each week upon Radio 4, he discusses an esoteric subject which somehow turns out to be absolutely fascinating. Surrounded by experts, Bragg stays in control of the conversation and, in this book, he takes on the history of the English language.Now, let us be honest, there are only two ways to do this subject: firstly, one could take the boring but educative line. This would lead to three hundred pages of tediously presented knowledge. The second method is the chatty,friendly version; a lot of fun to read but, at the end has one learned anything? Probably not.Why can someone not conjoin the two styles and write an entertaining AND informative book? The answer is because few people have that amount of talent: Bragg does.This is, by far, the best book that I have read this year - and I have perused a few good 'uns. The history is faultless and I learned an enormous amount. If I were to be critical, it would be the final chapter when Bragg looks to the future and tries to guess where English will go next. He accurately picks up upon the variation which is coming into English from its presence in many varied countries but, fails to mention the conjoining of the youth of these countries via the internet.This is a minor flaw, if flaw it is, in a work that more than accomplishes its main goal. I want a sixth (and probably a seventh) star in the ratings box.
Review by robeik
27/08/2015
I wonder if a book like this could be written about any other language than English; perhaps so. But for English speakers this is a great "adventure" story about the most commonly spoken language in the world. English that begins as an import from Fresia across the channel, picks up bits and pieces from invaders, resists the French invasion, and becomes (somewhat) standardised through key events, but continued and still continues to change and grow.Bragg's thesis is that English will continue to change, adapt, and borrow, and that all attempts to formalise or codify it will be a waste of time. It's ironic that the former owner of my copy of this book saw fit to 'correct' the text a half dozen times.