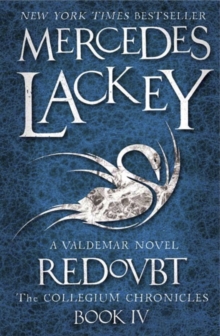 Collegium Chronicles, Vol. 4 - Redoubt
Paperback
Description
Mags, a young Herald trainee in Haven, the capital city of Valdemar, has very rare talents.
Recognising this, the King's Own Herald trains Mags as a spy, tasking him with uncovering the secrets of a mysterious new enemy who has taken an interest in Mags himself.
Why is an even deeper mystery. The answers can only be found in the depths of Mags' past, if he survives long enough to find them.
Information
Format: Paperback
Pages: 400 pages
Publisher: Titan Books Ltd
Publication Date: 01/12/2012
Category: Fantasy
ISBN: 9781781165911
Free Home Delivery
on all orders
Pick up orders
from local bookshops
Reviews
Showing 1 - 1 of 1 reviews.
Review by zjakkelien
16/06/2015
I'm an absolute fan of Mercedes Lackey and everything Valdemar. Still, I'm not in favor of the latest Collegium chronicle books. I find the stories have become thin and the characters are occasionally a bit too dysfunctional. Not in this last book, I have to admit. All the annoying disagreements and misunderstandings have cleared, so in a way, this book is better than book 2 and 3. Still, I don't think it's more than ok. It probably would have been better, had Lackey carried on with the story a bit more, but so far this is the fourth book and we're not at the end. This from an author who consistently sticks with trilogies at most. I wonder why she now feels the need to write a pentalogy, if indeed she stops at five books. There's definitely quite some stuff in there that could have been left out. In the case of book 4, I could have done with less detail on the wedding, and less detail on the mine dreams during the kidnapping. Not to mention the escape. If you think about it, the only thing that was really relevant about that was meeting the priest (I think, unless it was simply an instance of 'cat-dropping', the equivalent of name-dropping, except with a species instead of a person) and getting the details on the kidnappers in the end. Don't get me wrong, I don't mind detail about everyday life as such, I actually enjoy that. It's just that this latest series seems like a one-clue-a-book detective. I wish things would speed up a bit...