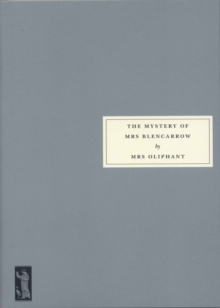 The Mystery of Mrs Blencarrow : Queen Eleanor and Fair Rosamund
Paperback
Information
Format: Paperback
Pages: 208 pages
Publisher: Persephone Books Ltd
Publication Date: 21/10/2010
Category: Classic fiction (pre c 1945)
ISBN: 9781903155790
Free Home Delivery
on all orders
Pick up orders
from local bookshops
Reviews
Showing 1 - 2 of 2 reviews.
Review by alexdaw
16/06/2015
This, (shock! horror!) was my first Persephone read.....and what a wonderful introduction. These two stories are like little mysteries.....one could even accuse them of being slightly gossipy mysteries. but they are not. The narrator tells them so that one could imagine them being the stuff of gossip. However Mrs Oliphant so deftly tells the tale that the reader holds much sympathy for the subject of the gossip and their dilemma. Indeed one might say that these tales are about gossip - society's desire for mystery and scandal and how an individual responds to society's expectations of behaviour. Despite these tales being written in the last century, nothing much changes in the world's appetite for a good story.The first tale is about Mrs Blencarrow, who, her gossipy neighbour declares, is concealing something...Mrs Blencarrow seems to be high and mighty but as with all tall poppies, her neighbour would love to drag her down.....Mrs Blencarrow does indeed have something to conceal but ...well..you will have to read the story to find out more.....Some of the writing and mores seem quaint and in today's relaxed society, somewhat unfathomable in terms of potential catastrophe but the writing is compelling and much is revealed about the thoughts and lives of women in that era.The second tale is more melancholy than the first but no less entrancing...what, after all, is scandal but the uncovering of our fellow human's foibles. We love scandal because we love to know that we are not alone in our failings. And we want to know how people will deal with the challenges of their lives. How does one confront one's husband's lover? it is no less challenging in the 19th century than in the 21st century. How does one save face? How does one protect the children? Even adult children? How does one protect one's self from damage - both personal and public?The introduction to this slim volume also provides a glimpse of Mrs Oliphant's life which in itself sounded like the subject of a good book. Easy but fascinating reading. All in all, I was a very satisfied reader of my first Persephone.
Review by MariaAlhambra
16/06/2015
This edition by Persephone books collects two lesser known novellas by Mrs Oliphant (her ghost/supernatural stories are better known and have been reprinted). Both novellas are unsensational treatments of two of sensation fiction plot favourites: the Gretna Green secret marriage plot and the bigamy plot. For those used to Collins or Braddon, the novellas might seem a little flat and restrained, but that quality makes them unique and interesting.