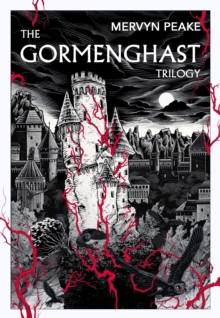 The Gormenghast Trilogy
Paperback
Description
Gormenghast is the vast, crumbling castle to which the seventy-seventh Earl, Titus Groan, is lord and heir.
Titus is expected to rule this gothic labyrinth of turrets and dungeons (and his eccentric and wayward subjects) according to strict age-old rituals, but things are changing in the castle.
Titus must contend with treachery, manipulation and murder as well as his own longing for a life beyond the castle walls.
Information
Format: Paperback
Pages: 960 pages, 20 Illustrations, unspecified
Publisher: Vintage Publishing
Publication Date: 01/04/1999
ISBN: 9780099288893
Other Formats
Hardback from £22.65
EPUB from £14.99
Free Home Delivery
on all orders
Pick up orders
from local bookshops
Reviews
Showing 1 - 2 of 2 reviews.
Review by johnthefireman
16/06/2015
I last read this more than 30 years ago, and I seem to remember I didn't finish it then. It's well written, dark fantasy, very descriptive, with complicated characters, some of whom are very intriguing.I find I have to put it down often and come back to it, reading it in short bursts. This is partly due to the complexity and the level of detail, which are just overwhelming at times, but some passages are a bit dull too.Descriptive, surreal, imaginative, but always dark, dark and hopeless...
Review by RidgewayGirl
16/06/2015
The <i>Gormenghast</i> trilogy is the brilliant invention of Mervyn Peake, who created a unique, imaginative, bizarre and compelling world in the form of an enormous decaying castle called Gormenghast. It's titular head is the Earl of Gormenghast, but the place is really ruled by the arcane and stringent rituals that define and dictate daily life for everyone from the Earl to the lowliest kitchen boy. The story begins with the birth of Titus Groan, heir to the seventy-sixth Earl of Gormenghast, Lord Sepulchrave. The Earl hides in his massive library, but can't help being drawn to his only son. His wife retreated years ago into her own mind, and into her love of animals, specifically the birds that visit her room through an ivy-covered window and her hoard of white cats. And Fuchsia, the odd and temperamental daughter of the house who finds that she loves Titus, in spite of herself. As Lord Sepulchrave descends into madness, a lowly kitchen boy seizes his chance to better himself. Steerpike may have come from nothing, but he's more than a match for the moribund members of the royal family.Peake named two of the books, <i>Titus Groan</i> and <i>Titus Alone</i>, after the seventy-seventh Earl of Gormenghast, but the real linchpin of the story is the castle itself, even as it moulders, decays, burns and floods. It's a strange, almost indescribable place, which Peake somehow manages to make real, writing in an over-blown style that suits the place, characters and events beautifully. I'm surprised these books aren't better known than they are. Peake's Gormenghast is an imaginative <i>tour de force</i> that puts places like Narnia to shame. And his characters veer wildly toward caricature, but he never loses control of them. The best of the lot are the sullen and impulsive Fuchsia, the affected and silly Doctor Prunesquallor, who is nonetheless the glue holding a fraying family together, Steerpike, the kitchen boy who will do what he has to do to get what he wants and the imposing Muzzlehatch, with his nose like a rudder and his amazing menangerie.