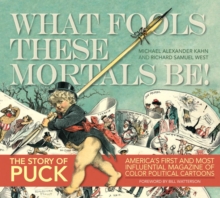 Puck What Fools These Mortals Be
Hardback
Description
"Richly illustrated, edifying and expertly curated...[a] mesmerizingcompendium of full-color political caricature." - The Wall StreetJournal"Many of Puck's issues remain bang up to date, ifsometimes mutated." - The Daily Beast"What Fools These MortalsBe!," is a glorious compilation of some of the magazine's best cartoons of adistinctly (wait for it) puckish nature.
IDW Publishing, along with DeanMullaney's Library of American Comics, have produced yet another brilliantvolume that deserves to be lovingly displayed on bookshelves and coffee tables."- The Washington TimesA lavish coffee table book devoted to themost important political satire and cartoon magazine in American history. Published from 1877 to 1918, Puck was regularly a major politicalbattleground and is credited with single-handedly thwarting the third-termambitions of Ulysses Grant in 1880 and electing Grover Cleveland to thepresidency in 1884.
Puck did it with art - lavish, color, full-page andtwo-page centerspread cartoons.
It was the first American magazine to publishcolor lithographs on a weekly basis and, for nearly forty years, was a trainingground and showcase for some of the country's most talented cartoonists, led byits co-founder, Joseph Keppler.
This retrospective contains nearly 300full-color plates. Forward by Bill Watterson of Calvin& Hobbesfame!"One of theoutstanding books of the year" -PrintMagazine
Information
Format: Hardback
Pages: 328 pages
Publisher: Idea & Design Works
Publication Date: 01/04/2017
Category: Cartoons & comic strips
ISBN: 9781631400469