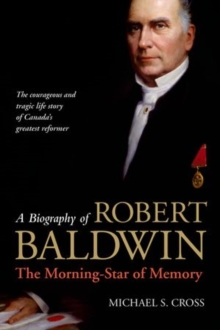 A Biography of Robert Baldwin: : The Morning-Star of Memory
Hardback
Description
The quest for responsible government took place in turbulent times.
The "very strange" personality driving this quest, Robert Baldwin, comprises the stuff of narrative so compelling it seems at times less history than novel.
Baldwin's intervention in Canadian history was momentous, and in this account history is intertwined with Baldwin's enigmatic private life. Decades of research by historian Michael Cross has unearthed new insight into this highly complex, troubled, and exceptional man.
In Cross's exploration, Baldwin inhabits an intricate emotional world, entangled with reflections on past and future.
Cross' narrative flows with elegant non-linearity, reflecting Baldwin's own fluid psychological chronology; the memory of his wife Eliza, who died comparative young, haunted Baldwin's often distressed mental landscape.
In fact, the first chapter maycontain one of the biggest surprises in any recent historical biography-taking place a month after Baldwin's death. Even so, the book is full of comedy and charm. Cross is a delightfully polished writer, with a remarkable knack for character.
Lord Sydenham is a "coxcomb" and a "rake" in the original sense of the words; Lord Elgin is an "unprepossessing little man" but with "steely determination," "a countenance stern in its frame of iron-grey muttonchops"; Louis LaFontaine is "handsome and charming but irritatingly pretentious." Interactions with the deep thinking and duty-bound Baldwin are at times chaoticcollisions of markedly different personalities. The book covers events such as the War of 1812, the 1841 Union of the Canadas, and mass migration of Irish famine refugees; it also contains a detailed chronology, portraits, maps, and paintings.
Here is not just a vision of an unsettled Canada that will take many readers aback, but also an encounter with a fascinating, "very strange" personality whose profound influence changed Canadian history forever.
Information
Format: Hardback
Pages: 448 pages, 8 b/w photos; 2 maps
Publisher: Oxford University Press, Canada
Publication Date: 29/11/2012
ISBN: 9780195449549
Free Home Delivery
on all orders
Pick up orders
from local bookshops