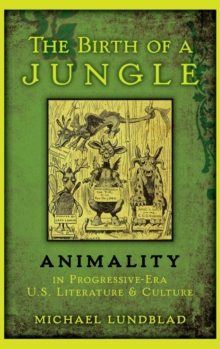 The Birth of a Jungle : Animality in Progressive-Era U.S. Literature and Culture
Hardback
Description
Exemplifying a new methodology identified as'animality studies' that focuses on constructions of animality at specific historical and cultural moments, without the explicit emphasis on animal advocacy that is often found in animal studies, this book explores animality at the turn of the twentieth century in the United States.
At that moment, shifts in what it meant to be both 'human' and 'animal' became crucial in terms of producing new ways of thinking about a widerange of human behaviors, including homosexuality, labor exploitation, and the lynching of black men.
The discourse of 'the jungle' was born at the confluence of Darwin and Freud, once human behavior could be explained, supposedly, by animal instincts that were naturally violent in the name ofsurvival and heterosexual in the name of reproduction.
Literary and cultural texts at the turn of the twentieth century produced new ways of thinking about the 'beast within' shifting away from a Protestant Christian formulation of a devilish inner beast that was sinful and violent.
But the central argument here is that Darwinist-Freudian formulations of the human animal, despite reigning critical interpretations, were often contested rather than reinforced by writers such as Jack London, HenryJames, Frank Norris, Upton Sinclair, Edgar Rice Burroughs, and William James, as well as cultural events such as a circus elephant publicly electrocuted at Coney Island, an African man on display in the Monkey House of the Bronx Zoo, and the Scopes "Monkey Trial." Ultimately, this book reveals notonly new ways of thinking about familiar texts, but also the significance of the question of the animal in relation to fields such as the history of sexuality, studies of literary naturalism, and critical race studies within American literary and cultural studies.
The book reveals how the figure of the animal evolved in U.S. literature and culture at the turn of the century, particularly through the birth of the jungle: a discourse that continues to enable enduring justifications of homophobia,economic exploitation, and racism in the United States and beyond.
Information
Format: Hardback
Pages: 240 pages, 7 illustrations
Publisher: Oxford University Press Inc
Publication Date: 07/03/2013
Category: Literary studies: c 1800 to c 1900
ISBN: 9780199917570
Free Home Delivery
on all orders
Pick up orders
from local bookshops