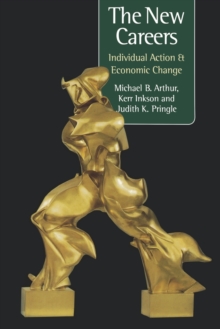 The New Careers : Individual Action and Economic Change
Paperback / softback
Description
`To career used to mean to swerve wildly or to go swiftly.
In this beautifully argued, richly documented, original, liberating work, Arthur, Inksen, and Pringle demonstrate that the new careers once more are about swift swerves, unexpected agency, and enacted opportunities and constraints.
Readers will think about the future in ways they never imagined possible.
This is a good book. People need to get it in their hands to see how good it is'- Karl Weick, University of Michigan The New Careers offers a major new approach to the concept of career and the relation of the individual to the contemporary workplace.
It shows that our traditional conceptions of careers are rooted in the stable conditions of the Industrial State model which has dominated the Twentieth century and that new models, better attuned to the New Economy of the later Twentieth and early Twenty-first centuries are now needed. The book points to careers as actions rather than structures, as a means of learning rather than means of earning, and as boundaryless entities rather than constrained ones.
It also points to the return of the career as a key concept in social analysis, but shows that in the light of new phenomena, the `career' as we traditionally know it will never be the same again. This innovative and accessible book is based on work for which Michael Arthur, Kerr Inkson and Judith Pringle won the Academy of Management prize for best section paper, which forms the core of this book.
Information
Format: Paperback / softback
Pages: 192 pages
Publisher: SAGE Publications Inc
Publication Date: 28/07/1999
Category: Sociology: work & labour
ISBN: 9780761959328