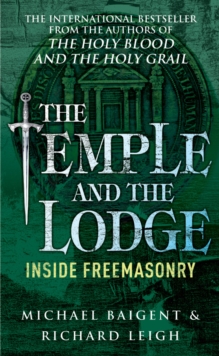 The Temple And The Lodge
Paperback / softback
Description
In this enthralling historical detective story, the authors of The Holy Blood and the Holy Grail trace the flight after 1309 of the Knights Templar from Europe to Scotland, where the Templar heritage was to take root, and would be perpetuated by a network of noble families.
That heritage, and the Freemasonry that arose from it, became inseparable from the Stuart cause.
The Temple and the Lodge charts the birth of Freemasonry through the survival of Templar traditions, through currents of European thought, through the mystery surrounding Rosslyn chapel, and through an elite cadre of aristocrats attached as personal bodyguards to the French king.
Pursuing Freemasonry through the 17th and 18th Centuries, Michael Baigent and Richard Leigh reveal its contribution to the fostering of tolerance, progressive values, and cohesion in English society, which helped to pre-empt a French-style revolution.
Even more dramatically, the influence of Freemasonry emerges as key facto in the formation of the United States of America as an embodiment of the ideal 'Masonic Republic'.
Information
Format:Paperback / softback
Pages:448 pages, 33
Publisher:Cornerstone
Publication Date:06/04/2000
Category:
ISBN:9780099257042