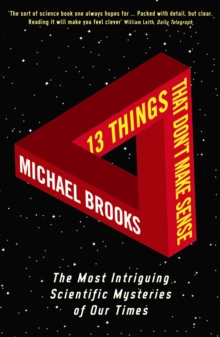 13 Things That Don't Make Sense : The Most Intriguing Scientific Mysteries of Our Time
Paperback
Description
Science starts to get interesting when things don't make sense. Even today there are experimental results that the most brilliant scientists can neither explain nor dismiss.
In the past, similar anomalies have revolutionised our world: in the sixteenth century, a set of celestial irregularities led Copernicus to realise that the Earth goes around the sun and not the reverse.
In 13 Things That Don't Make Sense Michael Brooks meets thirteen modern-day anomalies that may become tomorrow's breakthroughs.
Is ninety six percent of the universe missing? If no study has ever been able to definitively show that the placebo effect works, why has it become a pillar of medical science?
Was the 1977 signal from outer space a transmission from an alien civilization?
Spanning fields from chemistry to cosmology, psychology to physics, Michael Brooks thrillingly captures the excitement and controversy of the scientific unknown.
Information
Format: Paperback
Pages: 256 pages
Publisher: Profile Books Ltd
Publication Date: 01/01/2010
Category: Popular science
ISBN: 9781861976475
Free Home Delivery
on all orders
Pick up orders
from local bookshops
Reviews
Showing 1 - 3 of 3 reviews.
Review by Jewsbury
16/06/2015
The author presents a jazzy tale of thirteen scientific quandaries that deeply fascinate him. What is so intriguing about such questions is that we are not sure just how mysterious many of these issues really are. Inevitably the way we look at a problem decides how difficult it seems. Thus with the right insight many of these problems do disappear, others might be found to be trivial, yet some could be exceedingly illuminating. Science, in its splendid variety, is the valiant but cautious challenger of the unknown. Yet did he convince me there is a world-shattering problem with gravity, post-Darwinian evolution, free will, etc? Well, actually no! Certainly he puts forward a good case. The book is well researched and paced. However, he would not claim that his accounts are balanced or complete. Yet they do expose the pulse of science with its persistent yearning to test our understandings.
Review by rrainer
16/06/2015
Generally I enjoy this sort of book, and this was no exception, but I didn't find myself quite as engaged as I hoped to be. I think it was at its best when it didn't try to draw tenuous connections to popular culture and just told us what we needed to know. Some of the segments, particularly the one on Free Will, also seemed to have too narrow a focus when it came to the evidence; I kept thinking "what about this?" and "what about that?" but the broad areas I was bringing into it were never addressed.<br/><br/>Still, my main reason to read things like this, other than for their own sake because I like to know things, is to be inspired in my creative work, and this definitely succeeded on that front.
Review by MarkBeronte
16/06/2015
Spanning disciplines from biology to cosmology, chemistry to psychology to physics, Michael Brooks thrillingly captures the excitement of scientific discovery.Science's best-kept secret is this: even today, thereare experimental results that the most brilliant scientists cannot explain. In the past, similar "anomalies" have revolutionized our world. If history is any precedent, we should look to today's inexplicable results to forecast the future of science. Michael Brooks heads to the scientific frontier to confront thirteen modern-day anomalies and what they might reveal about tomorrow's breakthroughs.