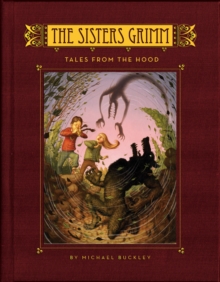 Tales from the Hood
Hardback
Description
Mr. Canis, dear friend and defender of the Grimm family, is put on trial for past crimes, which, considering that he's really the Big Bad Wolf, are legion.
A kangaroo court of Everafters, led by the cruel Queen of Hearts, is determined to find Canis guilty.
It's up to Sabrina and Daphne to find evidence to save their friend.
When Daphne re-enacts the Wolf's most famous crime, taking the part of Little Red Riding Hood, a shocking conspiracy is revealed.
Readers will enjoy this gripping courtroom drama.
Information
Format: Hardback
Pages: 304 pages, cl / bw / tt illustrations, cl / bw / tt photographs
Publisher: Abrams
Publication Date: 01/05/2008
Category: Crime & mystery fiction (Children's/YA)
ISBN: 9780810994782
Other Formats
Paperback from £5.15
EPUB from £6.68
Free Home Delivery
on all orders
Pick up orders
from local bookshops
Reviews
Showing 1 - 5 of 5 reviews.
Review by snapplechick
16/06/2015
I love these books! They are so interesting and unexpected. I can't wait for the next book!
Review by drebbles
16/06/2015
Despite their many problems (including the fact that their parents are under a sleeping spell) Sabrina and Daphne Grimm are growing up. Sabrina, despite herself, is becoming a girly girl and Daphne is starting to imitate Sabrina. In a way, this is a welcome diversion for the girls as their grandmother's best friend, Mr. Canis, is on trial for crimes he committed while he was the Big Bad Wolf. The Grimms have very good reasons to fear Mr. Canis will not have a fair trial, but do everything they can to help him, including trying to find out what really happened to Little Red Riding Hood and her grandmother. What they discover will surprise all of them - even Mr. Canis. "Tales from the Hood" is the wickedly funny sixth book in Michael Buckley's The Sisters Grimm fantasy series. The series is set in Ferryport Landing where fairy tale and other fantasy characters such as the Queen of Hearts, Robin Hood, Little Red Riding Hood, Snow White, and others live. Buckley has a lot of fun turning the fairy tale world inside out for better or for worse (especially the Wizard of Oz series - he does a number on the Scarecrow in this book) and creates a world in which the Queen of Hearts is mayor and the Sheriff of Nottingham is, well the Sheriff. All of the regular characters in the series are maturing as the series goes along, especially Sabrina and Daphne and Mr. Canis - whose back-story is finally reviewed in the book and it is a good one. While the book is aimed at children, readers of all ages will enjoy it - adults will love the way Buckley skews the fairytale and fantasy characters. And without revealing too much, the courtroom scenes are some of the funniest scenes in that setting I've ever read - Buckley's choice of judge is inspired. The book ends on a cliffhanger that left me anxiously waiting for the next book in the series. "Tales from the Hood" is a great entry in a wonderful fantasy series.
Review by nmhale
16/06/2015
I breathed a sigh of relief after reading this book and finding it agreeably similar to the first entries in the series. All long-running book series have the possibility of dipping into lulls, and the question is whether the series will pull out of the slump or not. Book five was a letdown for me, but this new entry brushed all those disappointments away like flimsy cobwebs. (warning, spoilers ahead ...)Sabrina and Daphne are closer than ever to waking their sleeping parents, but the trouble in town is bigger than ever, too, with the Scarlet Hand out in the open. They've driven every other human family away; only the Grimms are left. And Mayor Heart and Sheriff Nottingham are determined to finish them off, as well. The mystery of this book focuses on the real story of the Big Bad Wolf, since Mr. Canis (a.k.a. the big baddy) is on trial for his crimes. The girls join up with some new ever afters - Robin Hood and his band of Merry Men, and hooray for that, because Robin Hood is a great character. Plus, we have Nottingham, so it's only natural that his archenemy would be fighting against him. Jake is still dating Briar Rose, and the uncle and nieces are pursuing Goldilocks, the key to waking their parents, across Paris. A rum adventure all around.I do love fairy tale re-tellings when they have a life of their own and reinvent the characters in a believable way, and Buckley's concept is fresh and fun. He uses a large variety of fairy tales; I'm always interested to see who will pop up next. Watching them in a contemporary setting is a fun retake on old favorites. This series is like the Fables series, but at a maturity level suited for children. Also, the main characters, Sabrina and Daphne, are evolving as the series progresses, and I love Puck, love him, love him. Him and Sabrina are so cute. I snatch these books up as soon as the newest one comes out, and my hopes were greatly rewarded this time around.
Review by Kplatypus
16/06/2015
I've been reading these books for a while and they are truly charming. As the series progresses they've gotten a bit darker and more serious, but not in that fake and creepy that the Harry Potter ones did, at least in my heretical opinion. The girls' problems have become progressively more complicated in plausible (well, as plausible as can be in a pretty fantastical series) way. Definitely fun books for middle school kids and adults who like funky kid's fantasy.
Review by SRaval
16/06/2015
This book awed me it was a huge scary mystery that left two girls under the pressure to try and save their friend. It was funny at some parts of the book too.
Also in the The Sisters Grimm series