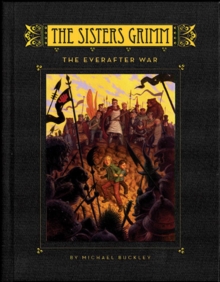 The Sisters Grimm : The Everafter War Bk. 7
Hardback
Description
Concluding the dramatic cliff-hanger that ended "Book Six", Sabrina and Daphne's prayers are finally answered when their parents are awoken from their sleeping spell.
But their happy reunion is short-lived when they are caught in the middle of a war between The Scarlet Hand and Prince Charming's Everafter army.
As the family works to help his ragtag group of rebels and protect their friends, Sabrina comes face to face with the family's deadliest enemy - the mysterious Master - who reveals a secret so shocking it will rock the entire family to its core.
Free Home Delivery
on all orders
Pick up orders
from local bookshops
Reviews
Showing 1 - 5 of 6 reviews.
Previous | Next
Review by twilighter17
16/06/2015
this book was the best in the series so far! they really threw a few curveballs in there. it really surprised me. I was on the verge of laughing out loud in some parts to crying in others. amazing job! =)
Review by Rubbah
16/06/2015
I cannot rave enough about how great this series is. Every book gets better, throwing in new characters, plot twists and storylines. Having sucessfully woken their parents up after 2 years in an enchanted sleep, everything should be great for Daphne and Sabrina. However, their parents are argueing, Daphne wont talk to Sabrina, and the forces of the Red Hand are coming ever closer.Also, finally, we learn who the 'Master' is, and what his plans are, but can the family cope when they cant seem to survive their personal conflicts?i cannot wait for the next in the series.
Review by mdtwilighter
16/06/2015
All of the Sister's Grimm books are charming and fun to read. In this book, the plot turns very grim (haha). A war between peace seeking Everafters and the Red Hand finally begins. Sabrina is faced with new dilemas and problems. The book is aimed towards girls 8-12, but i think it's enjoyable regardless of age.
Review by batkins
16/06/2015
Sisters Grimm: The Everafter WarBy: Brandon AtkinsThe Sisters Grimm is a continuation about a mysterious family that ties in with their ancestors the Brothers Grimm which causes many problems in the present day in a small town called Ferryport Landing. This story has many plots and therefore has many stories and twists. This book has many main characters, but the ones that this story revolves around are the Grimm family. The family consists of Sabrina Grimm the oldest sister, Daphne Grimm the youngest sister, Henry Grimm the father of the two girls, Veronica Grimm the mother of the two girls, "Granny" Relda Grimm the grandmother of the two girls and the mother of Henry Grimm. Other important characters in this story include Little Red Riding Hood, Big Bad Wolf/Mr.Canis, Three Little Pigs, and The Queen of Hearts. There are many other characters in this book that are important but will not be listed. Another detail about this is that all the characters are story book characters and they are all called Everafters because they all lived happily ever after, and they never grow old.I personally liked this book because it finally brings together many loose ends that were brought up in the previous books in the continuation. The book has a lot to do with family itself and it really clears up what was not clear in the other books. This book is like a long road to success because no matter how bad the girls problems are try they still have something to look forward to in the end. A great example of this was when the girls were finally reunited with their parents in this book. Their parents had been locked away in a long deep sleep so the parents were unable to wake up, but after all there hard efforts they finally woke up and the parents and children were reunited after two long years.In the book, what I hated the most was the false feeling of losing. An example of this is when all hope was lost and Mr. Canis was about to die on trial and then the Big Bad Wolf finally took over Mr.Canis's body and he completely broke free of the chains retraining him and ran away, but after that it seemed like the Big Bad Wolf was completely evil and that there was no more good from Mr.Canis inside of him, but in the end Mr.Canis returned to his former self. Mr. Canis had been fighting the Big Bad Wolf from within himself for the past 3,000 years ever since the story of Little Red Riding Hood began. The setting in this book takes place in Ferryport Landing, New York and Paris, France and other various places throughout New York. In my opinion the book had two themes. One of the themes was to never give up. A great example of this was when the Child Care Services woman Ms. Smirt had come back to take away Daphne and Sabrina Grimm away from Relda Grimm and take them aboard a train and take them away to another foster parent. The girls had tried everything to get away but they never gave up and eventually hey made it off the train because of their persistence. Another theme in this story is to follow your heart no matter where it takes you. An example of this is when Sabrina had been struggling between doing the right thing. She had been struggling because she had been going through a tough time and when she finally listened to her heart she did the right thing and saved the family right in the nick of time.I recommend this book to anyone who likes fantasy, and story book characters playing present day roles. This book is for anyone twelve and up. This book is a great young adult reader for those who just want to relive the old story book characters except more grown up. This was great read to read and I liked it.
Review by Jellyn
16/06/2015
This series has its good points -- female protagonists, some cool characters, humor. And its bad points -- too much action, too many characters, uncertainty of tone, chaos.This particular book is all about a war, so it's a lot of battles and well, that was the most boring of the LotR movies, so I certainly think it's the most boring of these books. Also, Puck is getting increasingly gross. If this series is trying to be aimed at girls, or girls and boys, it's leaning a little too heavily on the boy's side in this book.The book also seems to be afraid of emotion. The most emotional scenes feel abrupt, wrong, and flat. (Think Sirius going through the Veil in book 5.)I'm also not keen on the direction this series seems to be headed for the next book.