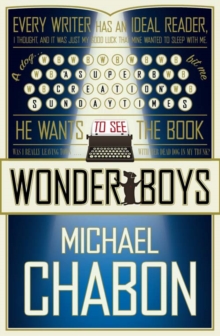 Description
A deft parody of the American fame factory and a piercing portrait of young and old desire, WONDER BOYS is a modern classic from the Pulitzer Prize-winning author of THE ADVENTURES OF KAVALIER & CLAY.Grady Tripp is an over-sexed, pot-bellied, pot-smoking, ageing wunderkind of a novelist now teaching creative writing at a Pittsburgh college while working on his 2,000-page masterpiece, WONDER BOYS.
When his rumbustious editor and friend, Terry Crabtree, arrives in town, a chaotic weekend follows - involving a tuba, a dead dog, Marilyn Monroe's ermine-lined jacket and a squashed boa constrictor.A novel of elegant imagination, bold humour and undeniable warmth, WONDER BOYS firmly established Michael Chabon as a force to be reckoned with in American fiction.
Information
Format: Paperback
Pages: 384 pages
Publisher: HarperCollins Publishers
Publication Date: 28/03/1996
ISBN: 9781857024050
Free Home Delivery
on all orders
Pick up orders
from local bookshops
Reviews
Showing 1 - 5 of 5 reviews.
Review by soylentgreen23
16/06/2015
"The Wonder Boys" is supposed to be the Great American Novel; I speak of course of the book within the book that lies at the heart of this work.I read this having first seen the film - a mistake, on every occasion, because the characters didn't fit the description. I also prefer the way the film ties up loose ends left dragging in the original - I prefer the short black guy reconciling his differences with the narrator, and I prefer that the whole Jewish dinner is discarded. One dead animal is enough - too is just carelessness.
Review by phoebesmum
16/06/2015
Picaresque and outrageous, a wonderful read. The film left out nearly all the best bits.
Review by edgeworth
16/06/2015
I can say without exaggeration that Michael Chabon is one of the greatest writers alive today. He is a Pulitzer Prize winner, a man who has made the restoration of genre fiction's reputation his personal quest, and one of my personal heroes. "The Amazing Adventures of Kavalier and Clay" is one of the defining literary masterpieces of this decade.We all start somewhere, though, and "Wonder Boys," the tale of one weekend in the life of a washed-up creative writing professor named Grady Tripp, is only Chabon's second novel. This early in his career, he had clearly mastered the art of the good sentence, and of the good paragraph. The average page in "Wonder Boys" is an aesthetic pleasure, marked by a wonderful balance of dry wit and genuine emotional passion. Example:<i>I saw that Sara, alone in a frail canoe, was drifiting nearer and nearer to the roaring misty cataract of motherhood, and that she now believed I was right behind her, in the stern, madly paddling. I searched for my feelings, an activity never far removed from looking for a dead rat in a spidery crawlspace under the house. I was appalled to see, after five years' exposure to the unstable isotopes of my love, how many of her hopes Sara Gaskell still entrusted to me; how much of her faith there remained for me to shatter.</i>What he had not yet mastered was the art of stringing these gemstones into a larger story, particularly a story worthy of them. "Wonder Boys" is a meandering, inconsistent voyage through a strange weekend in Grady Tripp's life, a story not quite sure of what it wants to be. Kerouac is mentioned as an explicit influence, and the forced zaniness of the weekend echoes Hunter S. Thompson. But Chabon is too maudlin a writer for these madcap adventures to feel real; he is at his best when describing Grady's collapsing life, his realisations that he is a failure, his desperate attempt to find a way out of the hole he has dug for himself. He is at his worst when throwing tubas, boa constrictors, and dead dogs into the mix in an attempt to inject some crazy adventure into a book that simply doesn't need it.Oh, by the way, Mike. WE GET IT. YOU ARE A JEWISH JEW WHO PRACTICES JUDAISM. MOVE ON.
Review by alexrichman
16/06/2015
A campus novel that turns into a road trip culminating in a Passover dinner, Chabon crafts a neat tale full of interesting characters. Sadly, the best ones are those we only meet briefly - the feckles stoner protagonist, who is for some reason irresistible to women, is nowehere near as interesting as his wife's parents and siblings.
Review by SChant
16/06/2015
Good writing as usual, just not as gripping as his later stuff