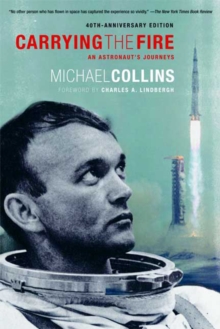 Carrying the Fire : An Astronaut's Journeys
Paperback
Description
The years that have passed since Neil Armstrong, Buzz Aldrin and Michael Collins piloted the Apollo 11 spacecraft to the moon in July 1969 have done nothing to alter the fundamental wonder of the event: man reaching the moon remains one of the great events - technical and spiritual - of our lifetime.
In this remarkable book, Michael Collins conveys, a very personal way, the drama, beauty, and humour of that adventure.
He also traces his development from his first flight experiences in the air force, through his days as a test pilot, to his Apollo 11 space walk, presenting an evocative picture of the joys of flight as well as a new perspective on time, light, and movement from someone who has seen the fragile Earth from the other side of the moon.
Information
Format: Paperback
Pages: 496 pages, 32 pages of b/w illustrations, 3 photographs
Publisher: Farrar, Straus & Giroux Inc
Publication Date: 23/06/2009
Category: Memoirs
ISBN: 9780374531942
Free Home Delivery
on all orders
Pick up orders
from local bookshops
Reviews
Showing 1 - 1 of 1 reviews.
Review by Polaris-
16/06/2015
Simply magnificent! As I've spent the last few days tearing through this engrossing book, I've been mindful of how I might be able to review it once I'd reached its end. Now that I have done so I find that I don't really know quite how to express what it is about Michael Collins' writing that moved me so much - except that I know this is most definitely one of the best memoirs I've ever read. It is truly a one-off, as the events it describes are so unique (most obviously the historic Apollo 11 mission) that they could only have been written by one of the members of 1960s NASA space program who was actually 'there'.Collins' writing is very laid back and as informal as it is informative. I rarely read books (for pleasure at least) with quite so much scientific content: rocket propulsion, trajectories, inter-planetary navigation, and so forth, but he puts these topics into words that I found no problem in understanding. Not that these subjects really dominate the narrative - his tale is told in a very personal and humourous style. For an astronaut (& fighter pilot for that matter!) Collins is incredibly humble and self-effacing - he repeatedly reminds the reader of how poor a mechanic he is and how lazy he can be...The early chapters retell his experiences as a USAF test pilot while in the background NASA's manned space program is underway. After some early setbacks he is eventually accepted into the astronaut staff at NASA in Houston, and begins the arduous training for the Gemini program. Amidst tales of geological field trips and survival training in inhospitable desert or jungle environments (in the event of any future re-entry going awry), and endless sickness inducing zero gravity dives, he gives a great sense to the day to day existence of an astronaut-in-waiting. As enjoyable as these pages are, the reader knows - as does the author of course - that it is all building up to the momentous day when he will finally sit at the 'tip of the pencil on the launch-pad' at Cape Kennedy on his way into space.The Gemini 10 mission he flies along with John Young is covered in every breathtaking detail, none more so than Collins' 2 EVAs (Extra Vehicular Activity - spacewalks to you and I). In the first, as he was taking star readings with his sextant whilst standing up in the hatch - head and shoulders out 'there' in space - he writes that he felt at that moment "like a Roman god riding the skies in his chariot". The 2nd EVA, where he has to leave the Gemini altogether and cross the void to reach the adjacent Agena craft (sent up previously specifically for this planned rendezvous), for the purposes of removing and replacing an experiment installed on its outside, is altogether more terrifying. He finds himself grappling with zero gravity while attempting to 'climb' aboard the rear end of a craft patently not designed for such an activity (there were no foot or handholds for his convenience) in bulky spacesuit complete with cumbersome gloves and yards of entangling umbilical line... There is no 'up' and there is no 'down' - talk about vertigo! All this while simultaneously reminding the Gemini pilot Young not to use whichever thruster may happen to be nearest to burning through either said umbilical lines or indeed Collins himself! It's edge of your seat stuff.The final third of this terrific book covers the famous Apollo 11 mission to the moon itself. The quirks of fate that led him to this moment are not lost on Collins as he writes of the medical problem which was discovered while he was due to be assigned to the Apollo 8 mission. His flight status of 'grounded' for several months inadvertently leads to his later inclusion on Apollo 11.I won't retell all that happens, but the moments when he is truly as alone as any human being has ever been - Charles Lindbergh's later congratulatory letter tells of relating to his experience more so than Armstrong's or Aldrin's - in lunar orbit while the landing module 'Eagle' is away on the Moon's surface are some truly gripping passages of tension. That said, the whole exciting tale is really page turning stuff.The final chapters contain Collins' thoughts on space travel in general (written in 1973) and where it might be headed. As well as his thoughts on humanity's attitudes to our 'blue and white planet', he poignantly expresses with one word above all how he sees Planet Earth now that he has seen the 'world in a window' - fragile.An excellent read and one which I heartily recommend to all.