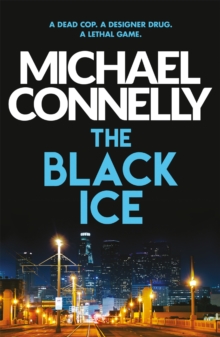 Description
When a body is found in a hotel room, reporters are soon all over the case: it appears to be a missing LAPD narcotics detective, apparently gone to the bad.
The rumours were that he had been selling a new drug called Black Ice that had been infiltrating Los Angeles from the Mexican cartel.
The LAPD are quick to declare the death a suicide, but Harry Bosch is not so sure.
There are odd mysteries and unexplained details from the crime scene which just don't add up.
Fighting an attraction to the detective's widow, Bosch starts his own maverick investigation, which soon leads him over the borders and into a dangerous world of shifting identities, police politics and deadly corruption . . .
Information
Format: Paperback
Pages: 400 pages
Publisher: Orion Publishing Co
Publication Date: 01/06/2009
Category: Crime & mystery
ISBN: 9781409116868
Free Home Delivery
on all orders
Pick up orders
from local bookshops
Reviews
Showing 1 - 2 of 2 reviews.
Review by AHS-Wolfy
16/06/2015
Harry Bosch has his nose put out of joint for being on-call and not being contacted when the body of a fellow police officer is found in an apparent case of suicide so decides to check the scene out anyway. Contrary to everyone else's opinion, Harry feels that there's something not quite right about this being a suicide especially when paths cross with other cases he's currently looking into. Unfortunately, those handling the dead body don't agree with him and want to close the investigation with a minimum amount of fuss as rumours abound that the cop in question may have crossed over to the other team and was working for the bad guys. Can Harry find out what was really going on before he gets in really deep trouble with his superiors and why does everything seem to point to a Mexican drug lord called Zorrillo?This is the 2nd in the series featuring the LA detective Harry Bosch but this time most of the action takes place between the US and Mexican border towns of Calexico and Mexicali. Harry is his usual confrontational self with just about everyone he meets and more details are fleshed out about his character and his way of living. I think the author was becoming more comfortable as a novelist with this book as the interactions between people flowed better than the previous. As the investigation deepens the atmosphere of the story becomes more tense and fraught with danger. A good 2nd book in the series and I'll definitely be picking up the next at some point.
Review by Eyejaybee
27/08/2015
The second outing for Heironymus 'Harry' Bosch is as entertaining as the previous volume ('The Black Echo). Harry Bosch is a surprisingly appealing protagonist. As is almost obligatory for fictional police officers, he goes his own way and has frequently been at odds with his senior officers. He is, however, clearly a 'good' cop, empathetic to the victims of the crimes he investigates, and capable of astute judgements and inspired leaps. All of this might make the book sound rather clichéd, but Connelly pulls it off admirably.This novel opens on Christmas Day in Los Angeles. Harry Bosch is at home but provisionally on call, and as he relaxes listening to traditional jazz, he also has his police scanner on. From this he hears of the discovery of a corpse in a motel room. Realising that the motel is within his precinct's patch he decides to attend the scene, even though he has not been summoned through the formal duty officer channels. Upon arrival he finds a smattering of senior officers, and it gradually becomes evident that the corpse is believed to be that of Cal Moore, an experienced officer in the LAPD Drug Squad.The last thing that the senior officers want is Bosch taking on the case and stirring up his customary farrago of complications. He is, therefore, dispatched to contact Moore's ex-wife to advise her of the possibility that her husband might have been killed. Bosch goes to break the news to Sylvia Moore, perhaps the hardest job within the police roll of duty, and finds himself drawn to her.On the following day Bosch is called into his boss's office and asked to take over a few stagnating cases that had been worked by one of his colleagues who has suddenly applied for early retirement on the grounds of ill health. Reluctantly Bosch takes this job on, and starts investigating the death of an unidentified Hispanic man whose body had been found in a Hollywood alleyway. His researches uncover possible connections to local drug dealers, and Harry discovers that the body had been found by Cal Moore himself. Further connections between the two crimes emerge, and Bosch becomes enmeshed in a complex web of undercover operations in both Los Angeles and Mexico.Connelly manages the plot very capably - there are a number of separate storylines, and he resolves all of them without compromising plausibility or characterisation. All in all, very entertaining and gripping..
Also in the Harry Bosch Series series | View all