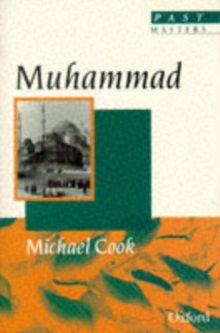 Description
Just over a sixth of the world's population subscribes to the Muslim belief that 'there is no god but God, and Muhammad is his Messenger'.
Michael Cook gives an incisive account of the man who inspired this faith, drawing on the traditional Muslim sources to describe Muhammad's life and teaching. He also attempts to stand back from this traditional picture to question how far it is historically justified.
Information
Format: Paperback
Pages: 112 pages
Publisher: Oxford University Press
Publication Date: 26/01/1983
Category: Islam
ISBN: 9780192876058
Free Home Delivery
on all orders
Pick up orders
from local bookshops
Reviews
Showing 1 - 2 of 2 reviews.
Review by Stbalbach
16/06/2015
Wonderful little introduction to Muhammad and Islam. Monotheistic Judaism and Christianity were making cultural headway into polytheistic pagan Arabia by the 7th century. Facing cultural challenge by an outside monotheistic religion, Muhammad co-opted elements of these faiths, the exact sources and origins a matter of great debate. Muhammad saw biblical history as a series of prophets from God who came to earth to deliver a message - Moses, Jesus and finally Muhammad were all "messengers" from God - the message of the Koran, as written by Muhammad, is the most recent, and therefore most valid, message from God and only the "true believers" (Muslims) can go to heaven.
Review by jrcovey
16/06/2015
Originally published in Oxford's "Past Masters" series, it was re-issued as part of the successful "Very Short Introduction" series, in which form it quickly disappeared from circulation. Perhaps it was felt that a book titled "Muhammad" should be more focused on the titular persona and less on the problem of sources. But from Cook's perspective this is nearly unavoidable. "The usual practice is to accept whatever in the sources we lack specific reason to reject," he says. Cook would like to suggest the alternative, that "we are nearer the mark in rejecting whatever we do not have specific reason to accept." Lately the scholarly pendulum has swung back a ways from this radical skepticism; it will be interesting to see what sort of stance is taken by the replacement Very Short Introduction volume (by Jonathan A.C. Brown) when it is published in April 2011. Tarif Khalidi says that Cook's tone in this volume is "supercilious," but I for one would love to see more work on religious origins that combines deep knowledge of the relevant sources with rigorous respect of the limits of our knowledge. A fine introduction to the problem of Islam's origins.
Also in the Past Masters series