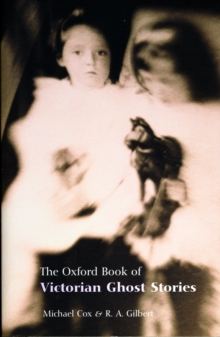 The Oxford Book of Victorian Ghost Stories
Paperback
Description
The Victorians excelled at telling ghost stories. In an age of rapid scientific progress the idea of a vindictive past able to reach out and violate the present held a special potential for terror.
Throughout the nineteenth century fictional ghost stories developed in parallel with the more general Victorian fascination with death and what lay beyond it.
Though they were as much a part of the cultural and literary fabric of the age as imperial confidence, the best of them still retain their original power to surprise and unsettle.
The editors map out the development of the ghost story from 1850 to the early years of the twentieth century and demonstrate the importance of this form of short fiction in Victorian popular culture.
As well as reprinting stories by supernatural specialists such as J.
S. Le Fanu and M. R. James, this selection also emphasizes the key role played by women writers - Elizabeth Gaskell, Mrs Craik, Rhoda Broughton, and Charlotte Riddell, among many others - and offers one or two genuine rarities for the supernatural fiction enthusiast to savour.
Other writers represented include Charles Dickens, Henry James, Wilkie Collins, Sir Arthur Conan Doyle, and R.
L. Stevenson. The editors also provide a fascinating introduction, detailed source notes, and a chronological list of ghost stories collections from 1850 to 1910.
Information
Format: Paperback
Pages: 528 pages
Publisher: Oxford University Press
Publication Date: 27/02/2003
Category: Anthologies (non-poetry)
ISBN: 9780192804471
Free Home Delivery
on all orders
Pick up orders
from local bookshops
Reviews
Showing 1 - 1 of 1 reviews.
Review by ishtahar
16/06/2015
Ghost stories were ludicrously popular during the Victorian period -- a time of huge transition, an age shaped more than any other by change, mostly industrial, but with the final consequences of these changes remaining unclear. With this shadow of change falling across life in general culminating, no doubt, in anxiety, the ghost story not only gave the Victorian reader an outlet for this anxiety but the ghosts themselves anchored a stable past in an unstable present.Having said all this I was quite disappointed with this anthology. Some of the stories are brilliant; those by Dickens, Wilkie Collins, Jerome K Jerome, RLStevenson and Conan Doyle stand out particularly of course (although Kipling's offering is poor in the extreme); but most of them are formulaic, haunted house stories, which perhaps in the context of the time, read once a week in a magazine or so forth, were entertaining but when read one after another are a little tiresome.My favourite was that by Elizabeth Gaskell. However, I'm not entirely sure if this is because it's any better than the others or because it was the first one and therefore still maintained an element of surprise!