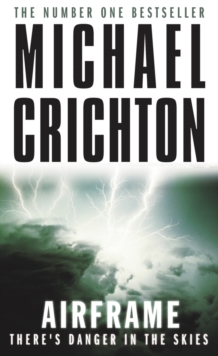 Description
A pilot calls into the control tower to reqest an emergency landing.
Following a mystery incident, the plane's cabin is virtually destroyed, ninety-four passengers are injured and three are dead. Investigating this fatal accident for the airline, Casey Singleton must find out the truth before the multi-million dollar business goes bust in the face of a huge meda backlash.
Further lives are at stake and it seems everyone is against her - even her own colleagues - and everyone has something to hide. Airframe is a fast-paced, adrenaline-fuelled thriller from the master of high-concept storytelling.
Information
Format: Paperback
Pages: 448 pages
Publisher: Cornerstone
Publication Date: 23/10/1997
Category: Crime & mystery
ISBN: 9780099556312
Free Home Delivery
on all orders
Pick up orders
from local bookshops
Reviews
Showing 1 - 4 of 4 reviews.
Review by anderew
16/06/2015
My favorite Crichton book, I read this on a flight to Portugal one year. Not a wise move! This book struck several chords which resonated with me: The superficial coverage of complex scientific and engineering subjects by the media to tell what ever story they want; The determined search for truth by relentless investigation of the facts. I also really liked the climax where MC goes for the sensible, believable reason behind the disaster rather than betraying the themes in his own book and being sensationalist. Parts of the book read like a screenplay or a book of the film. You can tell that the author had more than half an eye on the big screen version, especially in the hanger scene where the heroine is pursed into the aircraft.
Review by es135
16/06/2015
This is another stellar installment by Michael Crichton. When an airplane lands with dead/wounded passengers and a completely destroyed cabin, Casey must attempt to discover what caused the unusual event. As usual, Crichton expertly blends nonfiction elements into this sleek thriller. This is a really good read.
Review by ezuk
16/06/2015
Pretty light and fluffy. Airplane reading, quite literally. Crichton does delve pretty deep into aviation jargon, so the start of the book is satisfyingly crunchy and technical. But the characters come off too flat -- there's almost something pedagogical about it. I felt as though Crichton was trying to teach me why privatizing the commercial flight sector was a bad idea, and how it can only result in corner-cutting and danger to the flying public. The argument came off as a bit one-sided. It's true that the media is often sensational and hungry for simple explanations, but I'd like to believe it's not really as bad as the book makes it seem.<br/><br/>A nice, fun, quick read.
Review by ecw0647
16/06/2015
This is my first Crichton since the Andromeda Strain written so many years ago. Another reason to ignore the professional critics who have not been terribly kind to Crichton in the past few years. I really liked this book. It has a marvelous blend of science, information and a good plot that keeps the pages turning.<br/><br/>It's interesting that many of the reviews I read focused on the aircraft industry. I think the book is more about the media and it's relentless pursuit of the visual and the sound bite at the expense of truth and the whole picture more than about airplanes.<br/><br/>Enroute from Hong Kong to Denver, a brand new Norton-22, a plane clearly modeled on the Boeing 747, pitches and dives like a porpoise before being brought under control. The violent maneuvers kill three passengers and injures 56 others. . The airline's VP in charge of quality assurance — Casey Singleton — has to find out why, before more passengers and the airline's future go into a tailspin. As always in Crichton's expert hands, readers learn a lot about science while becoming enmeshed in the power-plays, office politics, and pressures of the global market and American jobs. Her job is complicated, because, as we gradually learn, powers within the company are trying to manipulate her and to embarrass the company so that the president of the company can be forced out in favor of another. Casey is saddled with a Norton family nephew who turns out to be a spy for one of the other company officers. We learn a great deal about aircraft manufacture and design — I must admit to really loving the technical detail — as Casey tries to figure out why the cockpit reports of turbulence differ from physical evidence of a "commanded slat deployment," something, that even had it occurred at altitude and high speed should not have caused the plane to go out-of-control the way it appears to have done.<br/><br/>Crichton obviously doesn't like lawyers, their stoolies (an ex-FAA employee who testifies for the plaintiffs in injury suits figures prominently in the media's desire to create a nasty story) nor the media, and a character clearly modeled after Mike Wallace has few redeeming qualities. At one point Casey is to be interviewed by the Wallace character, Marty Reardon, and a company PR person comes by to help her prepare a little. "There's only one more thing I can tell you, Katherine. You work in a complex business. If you try to explain that complexity to Marty, you'll be frustrated. You'll feel he isn't interested. He'll probably cut you off. Because he isn't interested. A lot of people complain television lacks focus. But that's the nature of the medium. Television's not about information at all. Information is active, engaging. Television is passive. Information is disinterested, objective. Television is emotional. It's entertainment. . . . [Marty's:] paid to exercise his one reliable talent: provoking people, getting them to make an emotional outburst, to lose their temper, to say something outrageous. He doesn't really want to know about airplanes. He wants a media moment."<br/><br/>Casey's father was a journalist and an old friend of his remarks at the end of the book, "Used to be — in the old days-- the media image roughly corresponded to reality. But now it's all reversed. The media image is the reality, and by comparison day-to-day life seems to lack excitement. So now day-to-day life is false, and the media image is true. Sometimes I look around my living room, and the most real thing in the room is the television. It's bright and vivid, and the rest of my life looks drab. So I turn the damn thing off. That does it every time. Get my life back."<br/><br/>