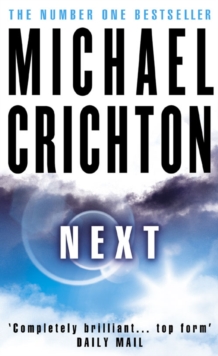 Description
The Number One international bestselling author of Jurassic Park, Congo and Sphere blends fact and fiction to create a near-future where genetic engineering opens up a whole new world of terrifying, page-turning possibilities... Is a loved one missing body parts?Are blondes becoming extinct?Has a human already cross-bred with a monkey? We live in a GENETIC WORLD. Fast, frightening - and potentially VERY lucrative. There are designer pets; a genetic cure for drug addiction; a booming market in eggs and sperm.
But is there also a talking ape in Borneo? Has a 'master' gene for controlling others been found?
Could an innocent man and his family be hunted cross-country because they happen to have certain valuable genes ... Are you ready for what comes NEXT in Michael Crichton's stunning new thriller?
Information
Format: Paperback
Pages: 528 pages
Publisher: HarperCollins Publishers
Publication Date: 06/08/2007
Category: Thriller / suspense
ISBN: 9780007241002
Other Formats
EPUB from £5.74
eAudiobook MP3 from £6.29
Free Home Delivery
on all orders
Pick up orders
from local bookshops
Reviews
Showing 1 - 5 of 5 reviews.
Review by john257hopper
16/06/2015
A reasonable page turning thriller that explores some interesting and controversial ideas, though my instinctive feeling is that the author is rather too one-sided in his presentation of these ideas. However, there are plain daft notions such as the fluently talking parrot Gerald and the "humanzee" Dave that detract from the seriousness of the concepts the author seeks to explore. As a novel about ideas rather than people, the characters, of whom there are far too many, are thinly drawn and one feels little for most of them. Despite its 500 pages, the novel also doesn't really seem to come to a proper conclusion, but peters out rather suddenly, as though Crichton had reached the publishable page count and had to end it there. So all in all certainly one of Crichton's less impressive works.
Review by MixMasterMax
16/06/2015
Incoherent gibberish. Makes no sense at all. There are remnants of a plot, but only just. Just like 'State of Fear', this book is merely a device to unload Chrichton's (very odd) ideas about genetics, law and politics. (He seems to have taken the same path Tom Clancy did in his Jack Ryan books.) Not over-the-top enough to qualify as satire - but almost. It has about as much to do with real-life genetics as 'The Fly' or 'Species' (even if some of the numerous topics covered in the book may well have warranted a closer look by somebody prepared to think about them for more than the day and a half it apparently took to slap together this piece of $&%!.)
Review by reading_fox
16/06/2015
Crichton's back on form with this one. It's the subject area he knows best, well researched and with an interesting and almost belivable plot too. In a way the plot is secondary as Michael has several points (clearly laid out in the notes at the back) that he wishes to make. The plot doesn't get too contrived in order for him to make them.The novel follows several characters lives though different chapters, this can be slightly confusing reading to begin with, but becomes clearer as the various interactions occur. They are all one way or another involved in the burgeoning genetics field. The conclusion is very rapid, Michael's made his points and suddenly all the plot lines are ended. Contrived - slightly, but worth reading anyway. There are various newsstory articles scattered through the book, adding the flavour of the times. It is interesting to speculate which are real and which invented - details are given in the notes. Are Michael's concern's real - well he's done the research with a well stocked binliography at the back I'm not going to argue. Some of his scenarios are distinctly magnified but the basic premise holds true. The Law is and Ass. The field of genetics is providing ample ground to show this is true. However I don't thkn the science is quite as doable as some of his characters manage to achieve (much like in Jurassic Park). Enjoyable. Thoughtprovoking.
Review by psiloiordinary
16/06/2015
At least it didn't take long to read.I thought his Jurassic Park was good and Congo as well, so when this one appeared at the school fete for a quid I thought I would give it a go. Yes I know the whole point is to take science and tech and just twist it a bit, enough to scare and or enlighten and or warn us, but this book goes too far. He simply makes up too much stuff and hence the usual "pacey read and jumbled plot lines gradually merging together" is left standing open to view like the standardised skeleton it actually is, bereft of the flesh of "entertainment".Interestingly one of the books in the bibliography is also on my too read shelf so I will turn to that next. (Genome by Matt Ridley)Don't spend more than 50p on this one.
Review by CarloA
16/06/2015
The crescendo of thrill that usually culminates in a enjoyablke climax is missing in this Crichton book. The story is thought-provoking and well told, but the thrill is limited.