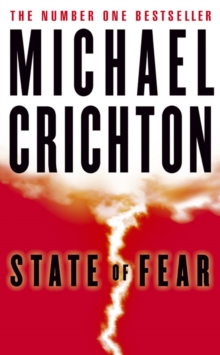 Description
The Number One international bestselling author of Jurassic Park, Congo and Sphere takes on global warming in this gripping and critically acclaimed thriller. In Paris, a physicist dies after performing a laboratory experiment for a beautiful visitor. In the jungles of Malaysia, a mysterious buyer purchases deadly cavitation technology, built to his specifications. In Vancouver, a small research submarine is leased for use in the waters of New Guinea. And in Tokyo, an intelligence agent tries to understand what it all means.
Information
Format: Paperback
Pages: 736 pages
Publisher: HarperCollins Publishers
Publication Date: 15/08/2005
Category: Thriller / suspense
ISBN: 9780007181605
Other Formats
EPUB from £3.49
eAudiobook MP3 from £6.80
Free Home Delivery
on all orders
Pick up orders
from local bookshops
Reviews
Showing 1 - 4 of 4 reviews.
Review by margmarieh
16/06/2015
Clearly, the story was written to justify the research. The characters were not as fully developed as I like, I lost track of what was really going on and thought it repetitive.
Review by jmcclain19
16/06/2015
Putting aside all the politics and the opinions of whether or not you believe global warming in the next great calamity mankind has to face or a bunch of hot air - Crichton's book is entertaining, fast paced, and kept up the intrigue from beginning to end. It's a tad odd to have a fiction novel that notated with annotations throughout - Crichton seemed bent on ensuring that there was no doubt his fictional characters existed in a non-fiction world. I enjoy books that challenge the norm and force you to step back and rethink what everyone else takes at face value. This would be one of those books.
Review by nm.fall07.d.eckerson
16/06/2015
I am only about one fourth the way through the story, but I think it is really interesting. It tackled the issue of global warming and the problems it may bring, or may not bring. What I have read so far is there is a group of people doing a mass of research on global warming, and perparing a case on global warming for court. So far the story is very intersting to me. Although I don't see the point of showing a court global warming who are they going to sue, the planet?
Review by paulmorriss
16/06/2015
This is a novel with climate change as the main subject. Part way through I had a peek at the appendix at the back which gave the author's own view on the matter. It wouldn't have had to read much further to work out what he thought as it was clear which side the good guys were on. I found the author's obvious opinion tended to overshadow the story, though it's a well written story. I've enjoyed his other books more.